The Lamborghini Sian hypercar has a V12, is a hybrid and has supercapacitors!
The Lamborghini Sian is the newest in the line of the outrageous limited-run models that Lamborghini has been making over the past few years. The Sian is possibly the most outrageous one of these given the way it looks but the really interesting bit is what lies underneath all of the sharp cuts and angles.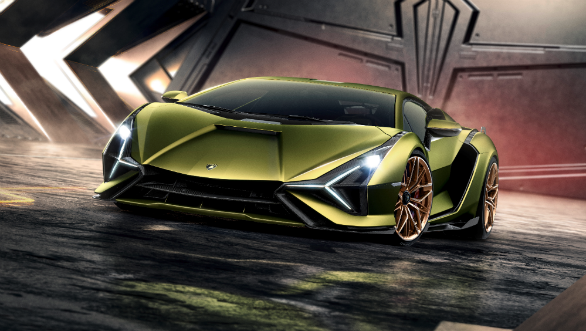 It's the brand's first hybrid hypercar and uses an updated version of the 6.5-litre V12 from the Aventador SVJ. Given the electrical assistance, it also happens to be its most powerful car yet. The combined power output is 819PS which lets the Sian get from 0 to 100 kmph in under 2.8 seconds and go on to a top speed of over 350 kmph. What's more interesting is how this car manages these figures. A 48V electric motor has been incorporated into the gearbox which allows for it to be directly connected to the wheels for the first time. Just this 34PS motor can be used during low-speed manoeuvres like parking and reversing.
This e-motor, unlike other such units which use a lithium-ion battery, is powered by a supercapacitor. This allows for it to be three times more powerful than a battery of the same weight. The Sian's unit is placed between the cockpit and the engine and weighs only 34 kgs, allowing for a quite remarkable 1PS/kg weight to power ratio. Another useful trait of this system is that it allows for the battery to be charged and discharged with the same efficiency and power. This allows for the Sian to have a unique regenerative braking system which lets it's energy storage system be fully charged every time the vehicle brakes. This boost is available up to 130 kmph when the e-motor disconnects.
As for the Sian's styling, it takes quite a few cues for the Terzo Millenio concept from 2017. This is evident in the extremely angular elements all throughout the car. There are the Y-elements in the front headlamps and more aero bits which highlight the Sian unique look. But the overall shape takes quite some inspiration from the Countach. This is evident in the cuts on the bonnet, the window line and in the glass-area itself. Further back, the NACA air ducts, the hexagonal elements in the rear, including the taillamps and the spoiler all take inspiration from Gandini's original. All these bits aid aero and cooling functionality.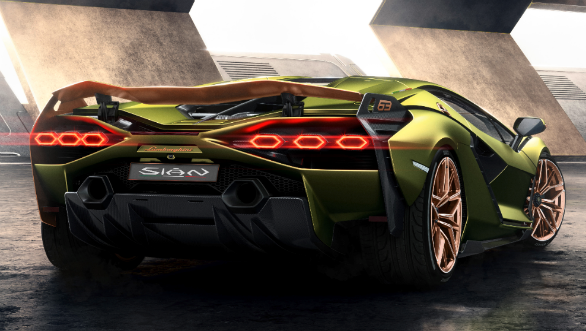 The interiors are more sedate, keeping in line with other Lamborghinis so you have the new touchscreen infotainment unit that debuted in the Huracan Evo, the toggle switches and Lamborghini's version of the virtual cockpit, among other things.
The Lamborghini Sian is a limited to aproduction run of 63 units, all of which have been sold already. Each unit can be configured uniqely by their owners via Lamborghini Ad Personam service.
Price (Ex-Delhi)
Starts Rs 4.78 Crore