Team Renault returns to F1 in 2016
The end of the 2015 F1 championship has left two very large questions. What happens to Renault, and what happens to Red Bull Racing? After a dismal performance over the past two seasons, Red Bull suddenly cut short their contract with engine builders Renault expecting to be able to change over to a Mercedes-AMG powerplant. However, when that fell through and talks with Honda failed, the multiple world championship winning team found itself in quite a pickle. As did Renault who wasn't supplying engines to any other teams this season aside from Torro Rosso, which is literally Red Bull in Italian.
Renault has bought over the Lotus F1 team and the French firm will return in 2016 as a factory team
In the words of Renault Chairman and CEO Carlos Ghosn, the company was left with two options. Either re-enter F1 with a factory team or pull out of the sport altogether. "After a detailed study, I have decided that Renault will be in Formula 1, starting 2016. The final details supplied by F1's main stakeholders gave us the confidence to accept this new challenge. Our ambition is to win - even if it will take some time."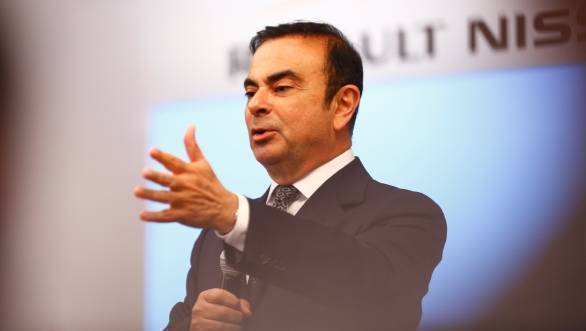 Renault Chairman and CEO Carlos Ghosn knows how much motorsport means to the brand. It's why they're back racing in 2016
Renault has now bought over the Lotus F1 team for this endeavour, a deal that Renault has just confirmed. The principle contracts were signed on December 3 and work on quickly finalising the terms of acquisition continues. Renault and Lotus have been associates for 15 years and were world champions in 2005 and 2006. More details on Renault's 2016 F1 programme will be released in January 2016.
Red Bull, meanwhile, has been busy too. Two weeks ago the company announced that it had won over TAG Heuer as a sponsor which ended the Swiss watch company's 30 year association with McLaren. Yesterday, the Austrian energy drink company released this amusing tweet on its homepage.
"Swiss engineering to close the gap next season @TAGHeuer #DontCrackUnderPressure".
This leads us to believe that Red Bull will be fielding cars with TAG Heuer badged engines in 2016. Now, I know what you're thinking, what's a watch making company got to do with highly advanced internal combustion engines? As it turns out, this isn't the first time this has happened. In 1980, McLaren ran F1 cars with TAG Heuer-branded engines however TAG didn't build the engines themselves but instead paid for the development costs for Porsche to develop and build the engines. This time around, things might work differently though and Red Bull may actually do the development work itself with some parts sourced from Renault but at the moment, there is no confirmation on this currently.
Both companies have a lot of work to do and as of now it looks like Ferrari will be the only real challenger to Mercedes-AMG's supremacy next season.
Also see:
Renault to take over Lotus' F1 team to re-enter Formula 1 as a full manufacturer entry
RENAULT ANNOUNCES RETURN TO FORMULA 1 IN 2016
• Carlos Ghosn announces his decision that Renault will return to Formula 1 with its own team for 2016 season. • Renault, 12-time Constructors' Champion with nearly 40 years in the sport, is an iconic brand in Formula 1 and intends to play an active role in the sport's development. • F1 is a technology showcase and accelerates development of Renault's innovation and range of sports cars. Following the September announcement of the signing of a Letter of Intent with Lotus, teams at Renault continued to evaluate the possibility of a return to Formula 1. Particular attention was paid to competing successfully with its own team in a financially sound way starting in 2016. "Renault had two options: to come back at 100 percent or leave. After a detailed study, I have decided that Renault will be in Formula 1, starting 2016. The final details supplied by F1's main stakeholders gave us the confidence to accept this new challenge. Our ambition is to win--even if it will take some time," said Carlos Ghosn, Chairman and CEO, Renault. As a full team, Renault will take maximum benefit from its victories. The payback as an engine supplier proved to be limited. The return on the investment necessitated by the new engine regulations and the return in terms of image were low. Work continues on finalizing the terms of the acquisition of the Lotus F1 Team in the shortest timeframe possible. The principal contracts were signed on December 3, 2015. The Lotus F1 Team effectively stands out as the best partner. Renault and Lotus F1 have known each other for 15 years and were world champions together in 2005 and 2006. Renault has had uninterrupted involvement in Formula 1 for almost 40 years. In 1977, it revolutionised the championship with the introduction of turbocharging, a technique that soon became the norm in the sport. Renault has since taken part in more than 600 grand prix, claiming 168 race wins, 12 Constructors' titles and 11 Drivers' crowns. Renault's decision to continue its involvement in Formula 1 is confirmation that it sees motorsport as an essential part of the brand's identity. Formula 1 is the ultimate symbol of the passion for automobiles. Passion defines Renault as expressed by its brand signature, 'Passion for Life'. In addition to attracting many customers, Formula 1 also fuels employee motivation. As the pinnacle of motor sport, Formula 1 demands technological and operational excellence. The championship serves as a showcase for the technological expertise that Renault dials into its products for the benefit of its customers. Formula 1 is a means for Renault to accelerate development and remain at the forefront of the sport's technological progress. It simultaneously allows Renault to build bridges between the advanced technologies seen in the world championship and its road cars, particularly in the fields of electric and hybrid vehicles. Consistent with its commitment to F1, Renault will develop its R.S. range by stepping up investment in order to be active on every continent and in even more segments with vehicles that meet the needs of their different markets. Formula 1 serves to promote awareness of the Renault brand and its image in all its markets across the world. Formula 1 is one of the sports that enjoys the most media coverage worldwide thanks to a following on five continents, particularly in emerging markets. It attracts 450 million television viewers annually and its scope for growth is enormous thanks to opportunities founded on new technologies, social networks, video games, etc. that have yet to be fully exploited. In January, we will provide more detailed information about Renault's F1 programme ahead of the 2016 championship that begins next March.