Team MRF's Jan Kopecky wins APRC New Caledonia
The second round of the 2014 Asia Pacific Rally Championship didn't go quite as well as reigning Asia Pacific Rally Champion Gaurav Gill had hoped that it would. Gill, having successfully kicked off his 2014 campaign at the first round of the championship at Rally Whangarei with a win, was hoping for more of the same in New Caledonia. But things didn't turn out that way.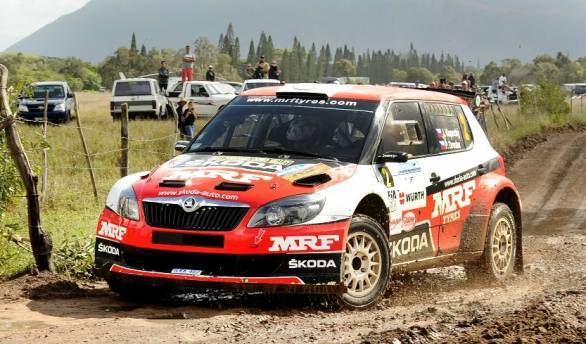 Jan Kopecky and Gaurav Gill are now tied for points in the APRC
After leading the rally comfortably for a good measure of the first day, Gill and co-driver Glenn Macneall ran into a spot of trouble when they ran into a tree and damaged the suspension on their Team MRF Skoda Fabia S2000.
This meant that his team-mate, reigning European Rally Champion Jan Kopecky, went into the second day of rallying with a five-minute lead over Gill. Given that SS12 had been cancelled on the Sunday, after which the last three stages of the rally were also cancelled because the conditions were so tricky that even the Safety Car couldn't get through, it was a highly truncated rally that fell into the hands of Kopecky and co-driver Pavel Dressler.
Both drivers were under investigation for postponing the start of Stage 13 because of what they believed were unsafe conditions, however neither driver was penalised too heavily. The fact that they finished first and second again, means the two Team MRF drivers are currently tied for points at the head of the championship standings.
"I am happy to have my first win of the season and the Team MRF Tyres Skoda team have been great in really tough conditions. There was no pressure and I was relaxed in the car, there was one stage in the North I enjoyed and each time I was able to go quicker than Gaurav, so it was good for us," declared Kopecky of his performance in the rally.
Meanwhile, defending champion Gill rued the fact that his mistake yesterday cost him the win but was happy to salvage second place. He commented, "We had a good lead and a healthy margin, but unfortunately we got caught out by the conditions yesterday and found a tree on the exit of a corner, wasn't so good for the car and we bent a suspension arm. Glenn and I had to do some repairs, the drive the last stage very conservatively. We're happy to finished the day yesterday and today fastest of the day, so maximum points in the kitty - the best I could have done."
The Team MRF duo now head to Australia for the third round of the APRC.
Photos: MACSPEEDFOTO/ALAN MCDONALD