Team Hero EBR to enter World Superbike Championship in 2014
Ever thought you'd see the Hero name make it to the World Superbike Championship? Well, we can't say that we did. But we didn't see it coming when Hero tied up with Erik Buell Racing either. After their successful partnership, that has already seen the alliance compete in the AMA Superbike series, the team has now decided to make the switch to the World Superbike Championship starting 2014. Riders Geoff May and Aaron Yates will compete on a pair of 2014 EBR 1190RX motorcycles.
Running Team Hero EBR in the 2014 season of WSBK will be team owner Claudio Quintarelli and team manager Giulio Bardi. Erik Buell, the brains behind the Buell Motorcycle Company, a former racer himself, is of course pleased that his motorcycles will finally make it to the WSBK championship. But he isn't expecting the team to make it to the podium right away. Buell declared that optimising the technology behind the EBR 1190RX so that it would be capable of being competitive in the championship would take some time. Given the fact that winter testing is banned, the team will only get to judge their pace later on in the season.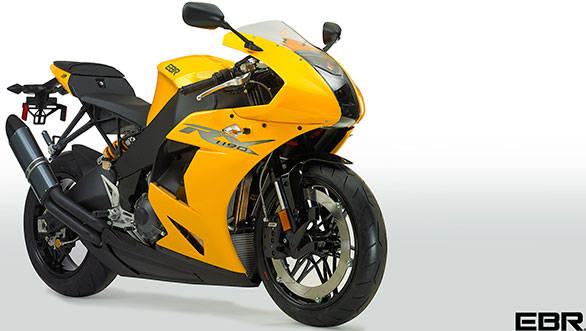 Team Hero EBR's choice of machine for the WSBK 2014, the EBR 1190RX
Pawan Munjal, managing director & CEO, Hero MotoCorp Ltd stated "We are delighted to be partnering with EBR at the Superbike World Championship this year. Hero is the first Indian two-wheeler brand to be associated with this event and this is also the debut year for Team Hero EBR at the series. This is in perfect sync with brand Hero's fast-paced global expansion into new international markets. I am sure it is going to be a lot of fun and we do look forward to some exciting times at the championships this year."
What the team ought to be reassured about, however, is the fact that both riders May and Yates are seasoned Superbike racers, each having competed for several seasons in the AMA series. May himself has ridden the EBR machine in 2012 and 2013 as well.
For more details on Team Hero EBR, watch this space.
Related Stories