Tata Tiago Sport could lock horns with Maruti Suzuki Baleno RS and the VW Polo GT TSI in India
If you have always loved the idea of a hot hatch but couldn't get one for its premium price, we understand that feeling. Cars like the Fiat Abarth Punto, Maruti Suzuki Baleno RS and the Volkswagen Polo GT series have carved a niche among car enthusiasts in India. Earlier this year, Tata Motors announced its partnership with the Coimbatore based Jayem Automotives called JT Special Vehicles Pvt. Ltd., a 50:50 joint venture and the first performance-spec offering from this partnership will be launched in India next year.
J Anand, managing director, Jayem Automotives and Guenter Butschek, CEO and managing director, Tata Motors
The Tata Tiago hatchback has been doing strong numbers for the company in terms of sales, also making it one of the popular hatchbacks in the segment. Considering that Jay Anand, MD, Jayem Automotives has been working on this car for quite some time now, we believe the first performance-spec model could be the spruced up version of the hatch called the Tata Tiago Sport. We did reach out to Tata Motors to get an official update on the Tiago Sport. The company stated the performance-spec car is in the works and will launch in 2018 as committed earlier. But denied letting out any information on the particular model or the segment that it will cater to.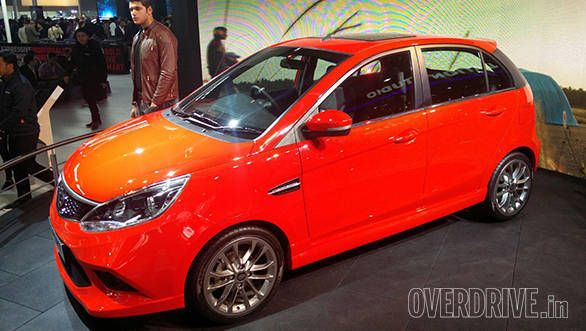 We believe the Tata Tiago Sport can make use of the styling showcased in the Tata Sport at the 2016 Auto Expo
Under the hood of the Tata Tiago Sport can be the new 1.2-litre petrol motor that does duty in the Tata Nexon SUV. This unit makes 110PS at 5,000rpm and generates 170Nm at 2,000-4,000rpm. This engine too will be available with the 6-speed manual. We assume Tata Motors could look at tweaking the motor to for the hot hatch in India. In terms of design, the Tata Tiago Sport could come equipped with aggressively styled kits that includes larger scoops on the bumpers and side skirts along with distinct exterior colour schemes, similar to the Tata Sport that was showcased at the 2016 Auto Expo in India. We also hope that Tata Motors offers the latest connectivity options in the hatch to make it at par with the competition.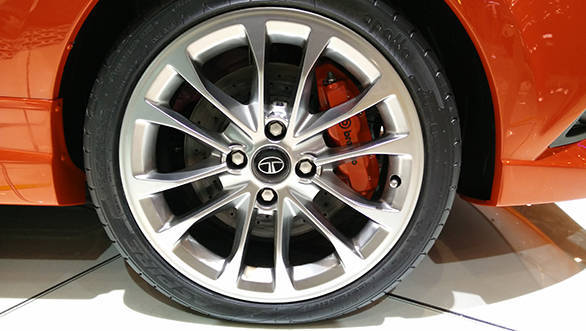 Yes, the Tata Sport concept had Brembo brakes. Hoping the same if offered on the Tiago Sport for additional safety
Should Tata Motors choose the 2018 Auto Expo as the venue to showcase the Tiago Sport in India? Let us know your views on the same in the comment section below.
Price (Ex-Delhi)
Starts Rs 4.6 Lakhs
Price (Ex-Delhi)
Starts Rs 6.17 Lakhs
Price (Ex-Delhi)
Starts Rs 6.35 Lakhs
Price (Ex-Delhi)
Starts Rs 9.67 Lakhs
Price (Ex-Delhi)
Starts Rs 6.95 Lakhs
Related Stories