Tata Motors unveils Tata T1 Prima Truck Racing Championship
We were the first ones to bring you the pictures of Tata Motors' Prima Race Trucks. Now Tata has officially unveiled the mega racing machines along with plans on how the championship will run. The first race of the series that is to be called the Tata T1 Prima Truck Racing Championship will be held on March 23 at the BIC.
The race trucks are based on Tata's Prima series, which Tata calls their 'world truck'. Twelve Prima trucks, Tata claims, have been heavily modified for the racing championship. The tweaks that have been made to the trucks have been carried out in the brake cooling system and fuel tank, while additional changes have been made to the seats, along with the addition of a rollcage. These trucks might look similar to the ones we see on roads hauling load, however in their racing form, they make 370PS and claim to have a top whack of 110kmph. Tata's sponsors for the event are Wabco, Castrol, Cummins, Accenture and JK Tyre.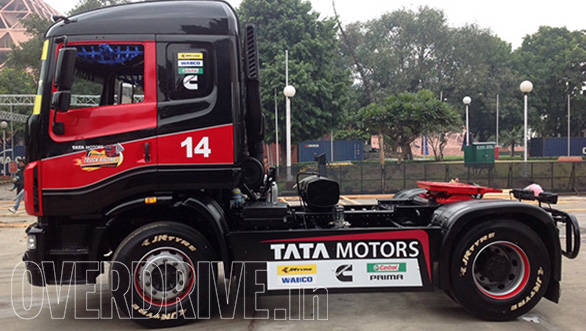 The racing trucks have conformed to the FMSCI guidelines under whose aegis the races are being conducted. While there won't be any big changes made to the tracks, bigger recovery equipment is definitely on the cards. Like typical races, there will be a qualifying session, followed by a race, with each round set to have two races. Renowned truck racing drivers from around the world will form part of the six teams which will race these 12 behemoths.
Karl Slym, MD Tata Motors with the Prima Racing Truck
The trucks will be on display at the Component Manufacturers' stall at Pragati Maidan during the Expo 2014.