Tata Motors says range not a major concern for Tigor EVs that were supplied to EESL
Tata Motors has released a statement in response to recent reports that government officials have refused to drive electric vehicles (EVs) supplied by Tata Motors. The officials claim that the EVs offer poor performance and low mileage making them unfeasible. Tata Motors has stated that said Energy Efficiency Services Limited or EESL, after consultation with experts finalised the tender and the Tigor EV that it has supplied conforms to those specifications. The cars, says Tata, were designed to meet the optimum balance between daily running requirements and most importantly, price accessibility.
Offering a battery with higher range would mean driving up the battery cost beyond Rs 7 lakh, at current Lithium-ion battery rates. That would, in turn, increase the price of an electric car beyond what's accessible for an Indian car buyer. India is a price conscious market with EV budgets ranging from Rs 4 lakh to Rs 8 lakh. Also, the market for EVs costing upwards of Rs 15 lakh is tiny, so investing in and developing a car for that market does not make any economic sense. There's also the case of poor electric car charging infrastructure in India which only compounds matters.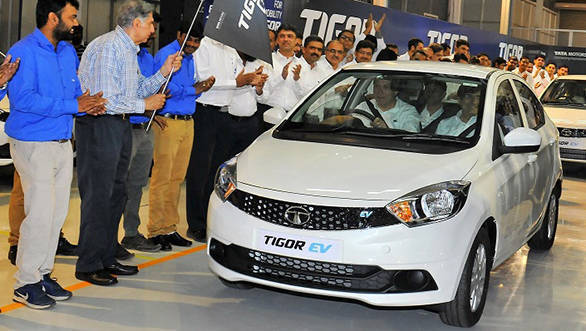 Tata Motors says that the biggest barrier to adoption of electric cars is the price of the car itself, and battery cost is the key variable determining the same.
On the issue with regards to battery range, Tata said that its research predicted a daily usage of around 50-60km which is well within the 130km range that the Tigor EV manages on a single charge. And, with a fast charge network that is coming up, range anxiety will soon be a thing of the past.
While battery prices are diving, Tata also said that it'll be imperative to increase the battery range in future cars. It emphasised that it is the country's call to either prioritise price accessibility or build high performance, long range cars.
Economies of scale will surely help in bringing the price down but that also depends on how quickly the nation adopts electric cars. The other concern is that India is heavily dependent on coal to meet its electricity and even today, some parts of the country witness load shedding. With the advent of EVs in India, we think that it is high time the Government also focuses on alternate means of generating electricity to meet the ever increasing demand.
Price (Ex-Delhi)
Starts Rs 5.75 Lakhs
Price (Ex-Delhi)
Starts Rs 11.99 Lakhs