Tanika Shanbagh makes Asia MX Championship debut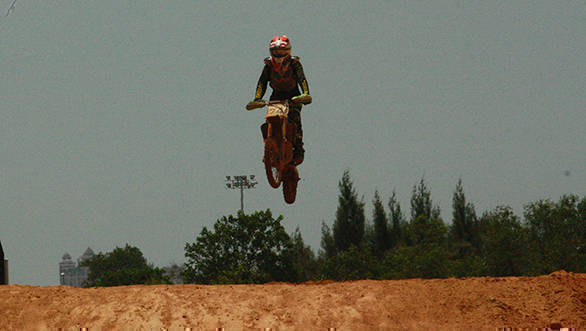 15 year old Tanika Shanbagh will compete in the 2017 Asia Motocross Championship
15-year-old Tanika Shanbagh has made her debut in the 2017 Asia Motocross Championship. The rider from Satara competed in the first round of the championship held in Kuala Terengganu astride a Kawasaki KX85 motorcycle. And by her own admission it was a steep learning curve.
Tanika qualified 15th out of 17 riders, which wasn't the ideal start to her international debut. Things got worse when during the first round of the event she fell on the first lap and injured her leg. With the pain unbearable, she was rushed to the hospital, where tests and X-rays fortunately revealed no serious injuries or broken bones. This, however, meant that she had already missed the two motos of Round 1.
For Round 2 her goal was to finish each of the motos and manage to gain some experience. During the first moto she scrapped her way into the middle of the pack by the time she had gotten to the first corner. By the fourth corner of the race she was already eleventh overall, which put her in the lead of the women's class. By the end of the moto, she was 10th in the Junior MX and first in the women's class, which was a good result after the disastrous start to the weekend.
In Moto 2, she made a good start, and was climbing through the order, 9th in the Junior MX, and once again leading the women's class when she stalled the bike in a sand pit. This meant that she lost a lot of time - 50 seconds - while trying to restart the bike. She rejoined the pack last, but managed to fight hard and make her way up the order. Tanika ended the moto 12th in the Junior MX and second in the women's class.
The Indian rider from Satara was particularly pleased with the fact that she had managed to improve her own laptimes over the course of the weekend. Her fastest lap during Moto 2 was 15 seconds faster than her qualifying time, which showed a rapid improvement.