Tang Eng Joo and Tan Choon Hong win Rainforest Challenge India
The Rainforest Challenge is the sort of event that you hear about, you watch YouTube videos of , you look at photographs and gawk. But nothing prepares you for the sheer scale of the actual event itself when you see it. Jeeps mountain-goating their way up steep rock faces, winches being used liberally, water crossings that would make submarines quiver - well they're all just par for the course at the Rainforest Challenge. And this is exactly what we got to witness at the RFC India that recently concluded in Goa.
The Force Motors teams dominated the event taking the top two places at the RFC
After 22 Special Stages being completed - the prologue, predator and terminator - it appeared that the order at the head of the standings were unshakeable.
Gerrari Offroaders' Kabir Waraich and Gagan Sachdeva took third place at the event
The team in the lead were Tang Eng Joor and co-driver Tan Choon Hong of Force Motors, while second place was also occupied by Force Motors with Mervyn Lim and co-driver Hamizan Bin Abdul Hamid. In third place were the boys from Gerrari Offroaders in Chandigarh - Kabir Waraich and Gagan Sachdeva.
Winching aplenty at the 2014 Rainforest Challenge
The turning point, if there was to be one, would be the Twilight stage. Well, as things turned out, the Twilight stage wasn't held at er, twilight, with the RFC officials deeming that rescue operations in the dead of night might prove too difficult.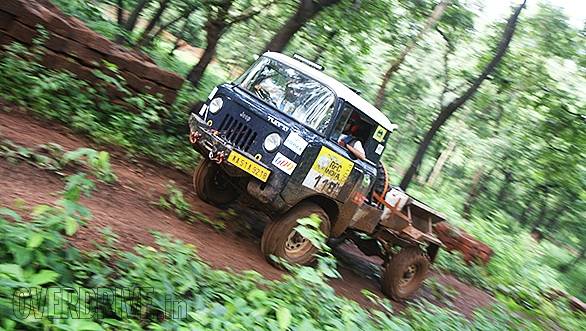 Hydross Niaz and Savant Satyanarayanan wont the prize for the most unusual offroader for their Willys FC 170
Instead the contingent set out at half past six in the morning, with a time limit of 6 hours to complete the course. As things turned out though, they got to an obstacle that was seemingly impossible to cross and eventually decided to back out and accept the 20 points that would be handed to them for the DNF. And so the order stood at the top stood as was.
David Metcalfe, Malaysia's Tang Eng Joo, Prasan Firodia, co-driver Tan Choon Hong, Luis J.A. Wee and Ashish Gupta
But perhaps Luis J A Wee, founder and creator of the Rainforest Challenge was right in saying that to just start the event itself, these intrepid offroaders were all winners. The biggest winner, however, it must be said was probably Cougar Motorsports' Ashish Gupta. Why, you ask? Well, a proper motorsport enthusiast, he is. And so when he went to the RFC Malaysia and witnessed the event last year, he decided he simply must bring the event down to India as well. And he's done exactly that and done a darn good job of it too!
David Metcalfe, Ashish Gupta, co-driver Gagan Sachdeva, driver Kabir Waraich, Luis J.A. Wee and SPS Garcha