T1 Prima Truck Racing Championship to be held on March 19, 2017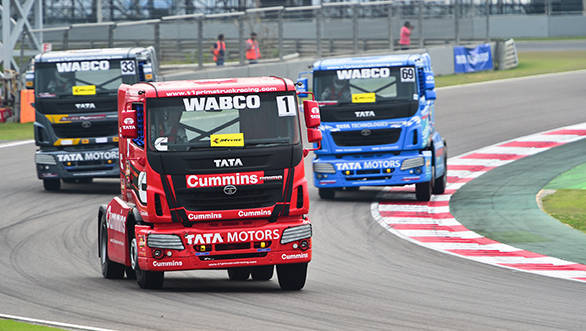 The fourth season of the T1 Prima Truck Racing Championship will be held at the Buddh International Circuit in Greater Noida on March 19, 2017. The event is organised by the Madras Motor Sports Club, with the British Truck Racing Association steppingin to regulate safety and performance standards.
The fourth season will witness 10 Indian truck drivers who have been shortlisted after selection rounds. This is the first time that Indian truck drivers will be given the opportunity to race alongside drivers from abroad. The championship will also feature the international racers, some of whom have already raced at the BIC in previous editions of the championship, representing six teams.
Drivers will race in three different classes. The Super Class features the top 10 racers from the TRP 2.0, the Champion Class features the top 10 finalists from the TRP 1.0 class and the Pro Class features 12 International Racers.
RT Wasan, vice president (Commercial), Commercial Vehicles, Tata Motors, said, "Having kicked-off TRP 2.0, under a new theme of 'Junoon-e-Trucking', we have received an encouraging response from Indian truck drivers for a race seat in Season 4. Through TRP, we are confident of equipping Indian drivers to excel in the sport and in their respective professions."
Vicky Chandhok, mentor, T1 Prima Truck Racing Championship said, "Truck racing is a fun sport that many did not realise could actually be done, but Tata Motors made it happen and today the T1 PRIMA Truck Racing Championship is one of the most awaited events on the Indian motorsports calendar. What makes the T1 PRIMA championship all the more fulfilling is the sense of purpose it brings, not only to the motorsports scene, but how it ties into the Indian commercial vehicles industry and more importantly to the profession of truck driving. Season 4 promises to be even more exciting."