Suzuki will establish 2 new plants in Gujarat and Haryana
On its 40th anniversary in India as Maruti Suzuki, Suzuki Motor Corporation announced the establishment of a global research and development centre in India. The announcement came at an event presided over by the Prime Minister, Narendra Modi, where the foundation stone of Suzuki Motor Gujarat electric vehicle battery manufacturing facility at Hansalpur, Gujarat was laid. Also inaugurated was Maruti Suzuki's new manufacturing facility in Kharkhoda, Haryana.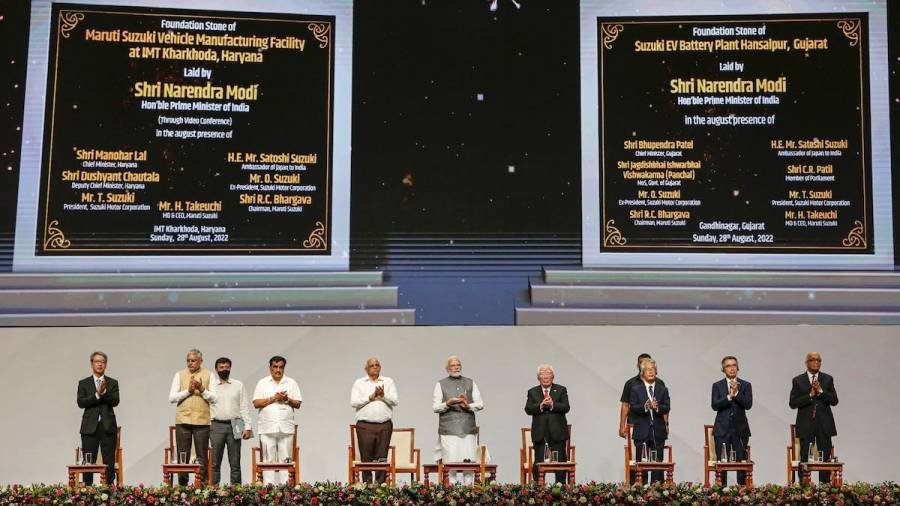 The first Suzuki Motor Corporation facility will be a factory that makes electric vehicle (EV) batteries in Hansalpur, Gujarat, while the second facility would make cars in Kharkhoda, Haryana.
At its facility in Gujarat, Suzuki, which now manufactures combustion engine automobiles in India for its domestic subsidiary Maruti Suzuki and for export, will begin building EVs in 2025. Additionally, it is establishing a second facility in the state to start producing EV batteries in 2026.
With an estimated expenditure of Rs 7,300 crore, Suzuki Motor Gujarat Electric Vehicle Battery Manufacturing Facility would be built to produce batteries for electric vehicles (EVs). The factory would have a 10 lakh yearly production capability. Over Rs 11,000 crore would be spent on the project's initial setup phase.
The new Maruti Suzuki production plant in Kharkhoda aspires to rank among the world's biggest single-site producers of passenger cars. From its third site in the region, Maruti intends to produce 10 lakh vehicles annually. The Suzuki group manufactured over 28 lakh automobiles globally during the most recent fiscal year, the automaker claims.
Suzuki also collaborates with Japanese companies Denso Corp. and Toshiba Corp. to produce lithium-ion batteries for hybrid automobiles for both domestic and international markets. The Gujarat and Haryana facilities will probably also extend their services to Toyota as they too have a vehicle development partnership agreement between them.
R. C. Bhargava, Chairman, Maruti Suzuki India Limited elaborated upon the success of 40 years of Suzuki's partnership with the people of India. He said, "This partnership has shown that the combination of Japanese and Indian strengths results in world-class competitiveness. We learnt that strong teamwork between employees and management is possible and creates a win-win situation for both. 98 per cent of our workers pay income tax, and a large percentage own cars and houses. We understood the critical role of a robust and competitive supply chain. We have learnt how to make continuous improvements in quality and the importance of always focussing on the customer."