Suzuki plans more CKDs, more premium motorcycles
On the sidelines of our test ride of Suzuki's new Gixxer SF, Suzuki officials spoke of their plan for India. As you know, Suzuki's two-wheeler operations in India have been slightly odd in strategy so far. Their first products were the Heat and Zeus commuters. Both 125cc motorcycles gleamed with high quality but they weren't very exciting to ride and didn't really break the mould in the tough 125cc class. Similarly, the GS150R, was another extremely functional, super refined 150 that again, failed to find significant traction in the Indian market. On the flip side, the Suzuki Access and now the Swish and Let's continue to gather up volumes for Suzuki in the scooter market while Suzuki CBUs - the Hayabusa, the GSX-R1000 et al, also do some small numbers for the company. Here's what Suzuki says lies ahead.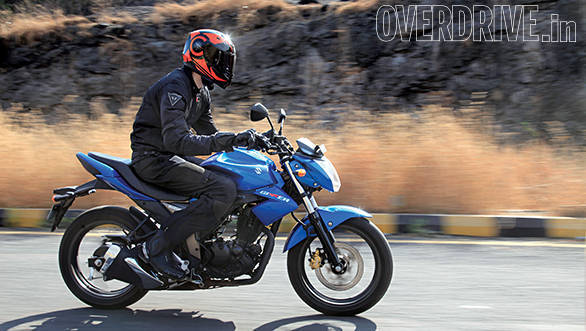 Commuter and volume motorcycles
Suzuki is pretty clear - and in our opinion correct - that success of the volume segment is hard to come by. The segment also happens to be very thin on the profit margin side. What Suzuki is saying, in essence, is that given how large the volumes for Hero and Honda have become, finding competitive pricing that still makes money in commuters is becoming harder and harder. In that sense, Suzuki (and practically every other manufacturer) is playing for the fringe spaces in these segments. Where sales make numbers and maybe market share but not money. Which is why Suzuki is unlikely to focus on commuter motorcycles for brand image, brand value and profits in the near future.
Premium motorcycles
Instead, Suzuki is looking at the upper end of the Indian motorcycle market. The premium market has sustained growth to show for itself and while it's still a very small part of the overall two-wheeler market, profits margins are higher, the ruboff on the brand is greater and most importantly, it's a new market where there is the opportunity to establish new outposts.
Suzuki says that is where it will focus and the driving mantra will be innovation. It quotes the Gixxer SF as an example. The SF is a naked motorcycle with a fairing added on. It allows a customer who wants a faired motorcycle for its design to own one. But since it does not alter the fundamental design of the base Gixxer, it does this at a relatively low cost differential and without any ergonomics issues that might hamper daily use.
Suzuki will not discuss future plans, naturally, but the intent is to create interesting, persuasive products in the premium space going forward.
Imports and assembled motorcycles?
We asked Suzuki about the Inazuma which was discontinued recently. Suzuki told us that now that they have a CKD assembly line available to them - created for the Inazuma - they have no intention of not using it. In fact, no company would create a CKD line without having a long term product plan for that ability to return the investment. So while Suzuki currently does not assemble any products in India for the two-wheeler market, you can be sure that new Suzuki CKD products are already in the pipeline and will see the light of day shortly. Similarly, while Suzuki has not confirmed anything, we believe Suzuki will pursue its new premium focus with an expansion of the CBU line as well. What this means is that Suzuki will continue to have products at the volume end of the market but keep your eyes open, Suzuki has plans for the Indian motorcycle and scooter enthusiast.
Watch out for our first ride review of the Suzuki Gixxer SF tomorrow.
Price (Ex-Delhi)
Starts Rs 64,800
Price (Ex-Delhi)
Starts Rs 1,11,871
Price (Ex-Delhi)
Starts Rs 1,00,212
Related Stories