Suzuki India celebrate World Hayabusa Day across eight cities
Suzuki Motorcycle India celebrated World Hayabusa Day on 21st August in eight cities: Delhi, Pune, Bangalore, Kolkata, Ahmedabad, Mumbai, Bhubaneswar and Hyderabad. Usually celebrated by the Suzuki Motor Corporation in Japan on August 23, the Indian arm of the Japanese manufacturer carried out similar festivities with Indian owners and enthusiasts.
The event saw a number of owners convene and celebrate the legendary machine, synonymous with power and speed. They also rode together to pay tribute to the Hayabusa.
Satoshi Uchida, managing director, Suzuki Motorcycle India Private Limited, said, "The Hayabusa Day celebrates the passion and spirit of owning and riding this legendary motorcycle and will instil a sense of pride and exclusivity among Hayabusa owners. We intend to make this an annual tradition to promote the big bike culture and the cult following of the Hayabusa among Indian riders."
The Suzuki Hayabusa is widely regarded as one of the best motorcycles in the world, built with the purpose of claiming the crown of the world's fastest production bike. Inspired by the Peregrine Falcon, which literally translates to Hayabusa in Japanese and dives at speeds of up to 300kmph, the Hayabusa continues to reign as one of most easiest motorcycles to hit that magical figure.
Suzuki introduced the first-generation Hayabusa in 1999 and managed to grab the crown from the Honda Blackbird. While it may not be the prettiest motorcycle on the planet, it gained immense popularity and cult following since its launch.
Powered by a 1,300cc, inline-four motor, the Hayabusa is nothing short of a rocket on two wheels. Each panel on the Hayabusa is perfected in a wind tunnel, in an effort to minimise drag. Even the wing mirrors are designed to channel air around the bike as efficiently as possible.
The second generation was launched in 2008, with a motor that developed 197PS of power and 139Nm of torque. The styling was revised to make the bike look a lot sharper without losing out on the aerodynamic attributes that defined the Busa. In 2013, the Hayabusa got Brembo monobloc callipers and ABS, making it easier and safer to tame the bike.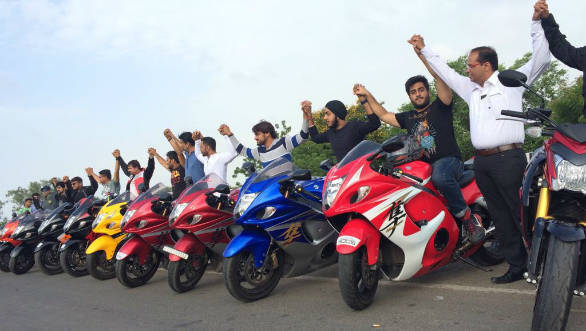 While there are many litre-class bikes these days  that are capable of hitting the 300kmph mark, none offers the flexibility that the Hayabusa's motor offers. You can putter around at everyday speeds in town or pound the racetrack at 300kmph, all day long. And the Busa will do it without a sweat. The Hayabusa is also one of the most recognised sportsbikes in the country, thanks to the Dhoom flick.
Recently, Suzuki dropped a bomb on its arch rival, Kawasaki,  by assembling the Hayabusa in India. That saw its price tag plummet, making it cheaper than Kawasaki Ninja ZX-14R, by whopping Rs 5 lakh. We compared the two recently and found the Busa to have the right mix of practicality, value and performance.
Price (Ex-Delhi)
Starts Rs 16,40,000
Price (Ex-Delhi)
Starts Rs 19,70,000