Suzuka Motorcycles launches its dirt bikes and ATVs in India
Suzuka Motorcycles, a Gujarat-based company, has launched a range of dirt bikes and ATVs for the Indian market. There are a total of three models for both the dirt bikes and ATVs as well. The prices for the bikes start at Rs 3.4lakhs for the base version and go up till Rs 3.65lakh for the top end variant. The ATVs on the other hand start are offered between the price range of Rs 1.76lakhs to Rs 1.93lakhs. All prices mentioned above are ex-showroom, Pune. We will now discuss them in detail.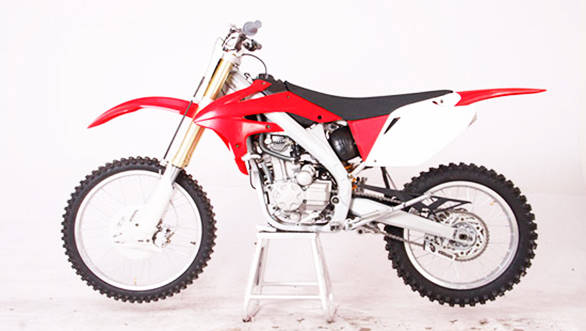 SRM 250cc AC (2-valve)
SRM 250cc AC (2 valve): This is the base model and has a 223cc, air cooled, 2 valve engine producing 16.31PS of power and a peak torque figure of 17.5Nm. It has a five speed transmission and is capable of a top speed of 120kmph.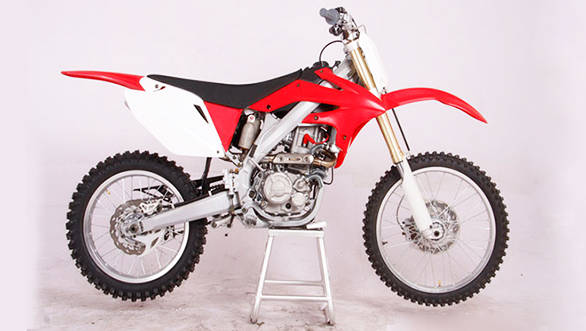 SRM 250cc WC (2-valve)
SRM 250cc WC (2 valve): This model sits between the base and the top end model. Engine powering this variant is a 223cc, water cooled, 2-valve engine generating the same power and torque as the base model with the transmission being a constant mesh 5-speed gearbox. Top speed is also the same as the 250 AC at 120kmph.
SRM 250cc WC (4 valve): This is the big daddy of the entire dirt bike range. Enigne powering this little monster is a 250cc, single cylinder unit with 4 valves producing 22.4PS and 20Nm of torque at 7000rpm. Transmission duties are handled by a constant mesh 5-speed gearbox which can take this bike to a top speed of 135kmph.
The ATVs come in three models namely: A24, A54 and A64 which are powered by engines varying from 110cc to 250cc and can hit a top speed varying from 65-80kmph.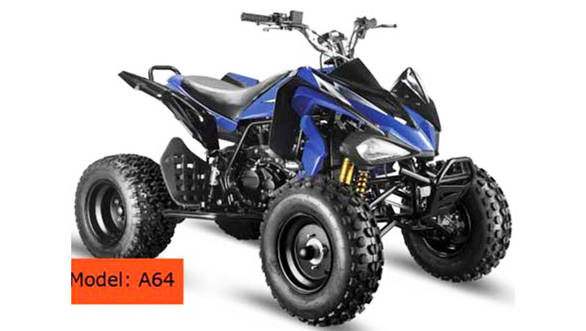 Suzuka A64 ATV
These models are not street legal and cannot be registered at an RTO. They are built only for the track. Suzuka says that these products have been developed in collaboration with a Japanese engineering company and are assembled at their unit in Sadanand, Gujarat. If the demand increases they also have the capacity to start production at this facility.