Supercross enters Nashik
Gulf Oil India has been promoting different kinds of motorsport all over the country since 2008 and they have had a particularly successful run in the 2012 dirt track championship, where top riders from across the country displayed their professionalism and had gruesome battles aplenty on the muddy track in a quest for glory. Instead of going with the tried and tested formula, Gulf has now decided to take the next step with a one-off Supercross event in that just concluded in Nashik. Given that it was a rather bold move by Gulf, the question on everyone's lips was 'Will it bring the same success as their earlier events?' Well, there was only one way to find out - and that was to watch the races as they were happening.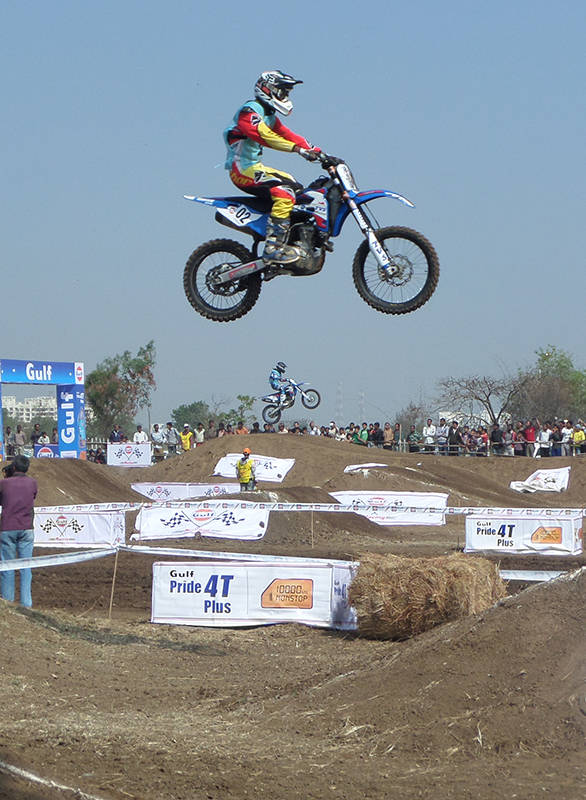 Riders taking on the man-made obstacles
For those not in the know, a Supercross race involves off-road bikes, with long suspension travel and sturdy chassis, on a man-made dirt track comprising of steep jump ramps and obstacles. This is unlike Dirt races, which consist of winding or oval muddy tracks that are devoid of any obstacles.
Starting grid of the Private Foreign class race
The event which was organised by Sportscraft Mumbai in association with Nashik Automotive Sports Association, was held at the newly built Kute's Supercross Track at Pathardi-Gaulane road, Nashik. The practice and the race were held on 22nd and 23rd February respectively. TVS Racing made their presence felt with their star rider Aravind KP. He is the only rider in the country to win a Motocross championship outside the country, when he won a SLARDAR (Sri Lankan Association of Racing Drivers And Riders) championship in 2011. Aravind is also a multiple national champion in Motocross and various other sorts of motorcycle events. Other famous riders from the TVS stable were Harith Noah, R Natraj and Pramod Joshua. The event was participated in by lot of privateers as well, Ganesh Lokhande, Jatin Jain, Jinesh Patel, to name a few. Making her debut in the Supercross race was the lone girl rider Nishi Shukla in the Indian Novice class. The event saw a whopping 96 participants, and competition was held in the following categories: Indian Expert Foreign class motorcycles up to 500cc, 2 and 4 stroke (two races-nine laps each), Private Foreign class up to 260cc, 2 and 4 stroke (two races-nine laps each), Indian Expert class up to 260cc, 2 and 4 stroke (two races-seven laps each), Private Expert class up to 260cc, 2 and 4 stroke (two races-seven laps each), Local (Nashik) Foreign class up to 260cc, 2 and 4 stroke (one race-seven laps), Novice Class up to 260cc, 2 and 4 stroke (one race five laps). Overall winners of the categories with two races were decided by adding up the points in each race.
Yuvraj (1) trying hard to fend off Sahil Pathan (5) in their battle for first place. Sahil came out tops in the end
There was also a kid's class demo round that saw three 12 to 15 year-olds, compete on up to 85cc, 2 and 4 stroke bikes for a race that lasted two laps.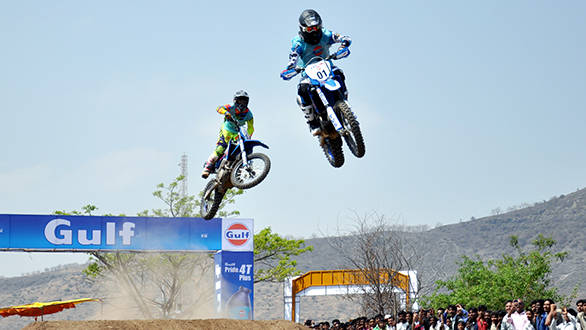 Harith leads but Aravind has the victory in sight
The event saw nail-biting finishes in many categories, with a fierce battle between the TVS duo Aravind KP and Harith Noah in the Indian Expert Foreign class. Harith won Race 1 with KP following a close second. It was Race 2, however, that had the spectators on the edges of their seats for all nine laps. KP made a brilliant pass on Harith in the dying moments of the race, forcing him to commit error under pressure. This category hence ended in an overall tie between the team-mates. The Private Foreign class saw Jignesh Patel (KTM SXF) emerge the overall winner. The Indian Expert class was swiped by Aravind KP again, astride a foreign chassis motorcycle with an RTR engine. Private Expert class was won overall by Aakash Satpute on a TVS Apache. Nashik Class Foreign, was won by Ganesh Lokhande on a Honda CRF.
Nishi Shukla picking up her bike after taking a fall on the second lap
Nishi Shukla, the lone girl rider, had a race to forget in the Indian Novice class, as she had a fall on the second lap. Her brother though, Kshitij Shukla, won the race astride Suzuki Fiero. Riders were all praises about the track and facility, with Aravind KP rating it as the best Supercross track yet in India. The facilities - both basic and medical -  were good during practice and the race itself, which ran flawlessly. The excitement from the racers and the crowd proved without doubt that the event was a success. Organisers are now looking to conduct more and more races on this track in the future - something for us to watch out for!