Strider balance cycles step in the Indian market - priced Rs 12,270
Strider Sports International Inc, a U.S based bicycle manufacturing company has entered into the Indian market with 12 Sport Balance Bike which is listed on an online e-commerce portal, etailz, for Rs 12,270. The 12 Sport Balance Bike will also be sold by the manufacturer's authorised dealers. The company also has plans to bring in two more products, Sport Baby Bundle as well as the 14x Sport Balance Bike by mid-2019.
Strider 14x Sport Balance Bike fitted with a chain drive
The Sport Baby Bundle is internationally on sale for $199.98, that translates to Rs 13,914. The Sport Baby Bundle has a rocking base and no pedals. The 14x Sport Balance Bike, also sold internationally, is priced at $209.99 that is Rs 14,611 by today's currency exchange rate. The 14x Sport Balance Bike comes with a chain drive as an external accessory, however, kids can choose to install it when they are confident or skilled enough to balance the bike while sourcing it the driving force.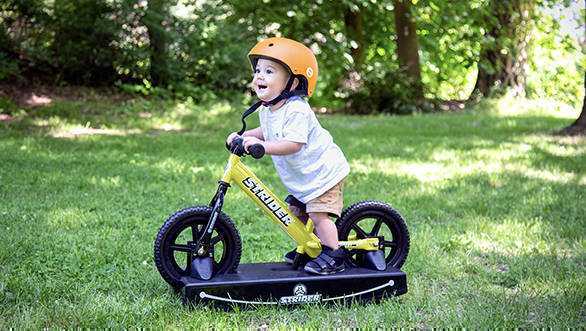 Strider Sport Baby Bundle with a rocker bed
Ryan McFarland, President, CEO, and Chief Enthusiast, Strider Sports International Inc. says, "From tricycles to bikes with training wheels, parents often invest a substantial amount of money into products that weren't really designed with the child's success in mind. The toughest part about learning to ride a bicycle isn't pedalling, it is balance and steering. Strider Balance Bikes help the rider learn steering and balance before introducing them to pedals. No crankset and chain, no pedals and absolutely no training wheels, make Strider Balance Bikes not only unique but also the safest option for your child. Our global success is a testament to the awesomeness of the Strider design."
Strider 12 Sport Balance Bike
"At Strider Sports International Inc, we have a passion for riding and we want to share that passion with the world. Strider Balance Bikes for toddlers not only introduce them to the world of two-wheeled transportation, but give them the confidence, independence, and ability to explore the world around them," added Ryan McFarland.
Present in India for the announcement, Dan Chell, Outreach Manager, Strider Bikes said, "India is a very important market for us and we are very excited to introduce our product portfolio to the quality conscious and progressive Indian audience. After the overwhelming response and affection received across the globe, we are confident that the children in India will love Strider Bikes just as much as we love to inspire and teach them to ride. With Strider Bikes, kids no longer have to suffer from pedal scrapes or training wheel accidents – they can become confident, balancing pros with the help of their own two feet!"