Steelbird SB 42 Bang Airborne helmet launched in India at Rs 2,299
Steelbird India has introduced a new version of its entry level motocross helmet. The new helmet is called SB 42 Bang Airborne and is priced at Rs 2,299. In January this year, the company had introduced the Bang range of helmets which costs Rs 1,629. The only difference between the two is that the SB 42 Bang Airborne range gets a dual tone paint with graphics.
Steelbird India claims that the Bang motocross helmet utilises high impact ABS (Acrylonitrile Butadiene Styrene) and high density EPS (Expanded Poly Styrene) in its construction. It gets an adjustable and extendable peak while the double visor is coated with polycarbonate anti scratch material. It gets a removable and washable liner and is available in glossy as well as matt finish.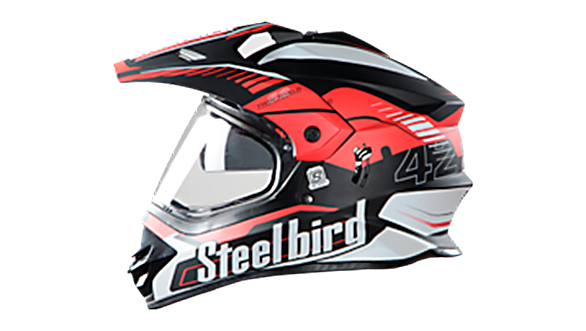 In April this year, the company introduced the A1 Ares series helmets which are priced at Rs 2,499. This helmet is available in various colour and glow-in-the-dark graphic combinations. It even offers features like a visor locking system and a single button flip-up function. It is also compliant with ISI standards.
This year the company also introduced its SB1 Free Live AIR helmets which is available in two sizes, ten colour schemes and is priced at Rs 1,799. It has been designed at the company's R&D facility in Italy and has three air vents for inflow and one exhaust vent.