Steelbird retail outlet in Aurangabad
Steelbird Hi-Tech India Ltd, India's largest ISI helmet brand has announced a retail outlet in Aurangabad, Maharashtra. The retailer is Shree Auto Parts Centre and will sell an exclusive range of the latest helmets.
Sharing the vision behind this move of Steelbird Helmets, Shailendra Jain, Head - Sales & Marketing said, "an area like Maharashtra, which is one of the leading states in India holds potential for any company. The people are passionate about new products and also have the paying capacity, which creates a perfect atmosphere to launch a niche segment of products to sell through retail outlets. There is more awareness about safety now and people want branded products to ensure that." To begin with, the outlet will sell Steelbird's exclusive range of helmets but later on introduce top-of-the-line biking gear.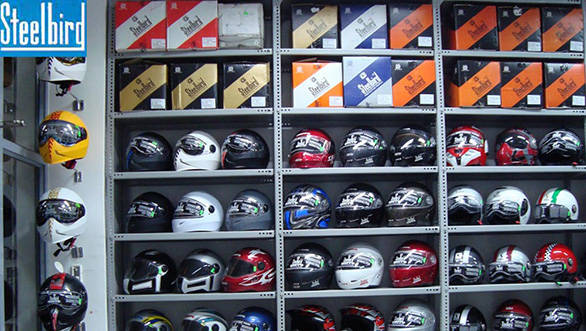 "Shree Auto Parts Centre has been the Authorised dealers of Steelbird for the last 20 years. Over the years they have worked tirelessly in promoting Steelbird Helmets in the Marathwada region, and considered Steelbird to be the flagship brand of their store. They have now opened their newly renovated showroom as Steelbird retail outlet," said Jain.
As the only exclusive helmets store in Marathwada region, this outlet will have more than 250 helmets on display. It will also help in promoting Steelbird as a corporate supplier of helmets, and promote the products to corporate customers in the Waluj and Shendra Industrial areas in Aurangabad.