Spied: 2019 Audi S Q8 spotted testing near the Nurburgring in Germany
Audi recently unveiled the new Q8, its new flagship SUV that sits above the Q7. But that's not the end of it. Audi is working on RS Q8 and S Q8, two performance-oriented variants of the Q8 that are expected to go on sale in the coming months.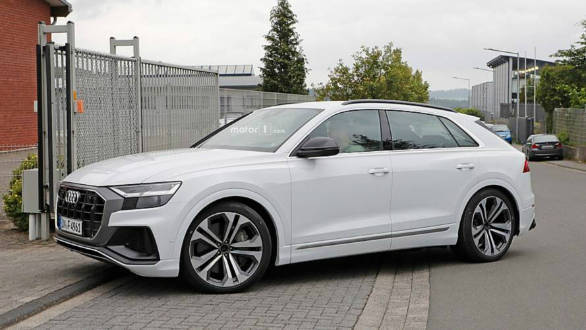 The spy pictures you see here are of the S Q8 that'll slot in between the RS Q8 and the Q8 SUVs. The car was snapped near the Nurburgring, supposedly undergoing performance testing. The S Q8, going by these images, has the same grille and alloy wheels as the as its other Q8 siblings. That said, notice that the S Q8's ride height is lower than the Q8 SUV. Considering that this is the prototype, expect the production model to sport a few changes to the exterior.
The S Q8 may drop the V8 mill and instead get a V6 hybrid drivetrain. The petrol motor is paired with a 20-kW electric motor. The expected power output is 470PS while the torque figure will hover around the 700Nm mark. About 60 km of all-electric range should be made available.
The Q8 variants will be based on the MLB Evo platform which forms the basic structure for Volkswagen's high-end SUVs like the Audi Q7, new VW Touareg, Porsche Cayenne Lamborghini Urus and Bentley Bentayga. The basic dash design should be modelled along the A8's as well with similar features and trim options. The S Q8 is expected to launch in early 2019 internationally and in India later in the year followed by the RS Q8.
Image source: Motor 1.com
Price (Ex-Delhi)
Starts Rs 63.12 Lakhs
Price (Ex-Delhi)
Starts Rs 1.34 Crore
Price (Ex-Delhi)
Starts Rs 79.99 Lakhs
Price (Ex-Delhi)
Starts Rs 4.1 Crore
Price (Ex-Delhi)
Starts Rs 3 Crore
Price (Ex-Delhi)
Starts Rs 1.19 Crore