Spec comparo: Volkswagen T-Roc vs Jeep Compass
Volkswagen has been busy with the launch of the Tiguan Allspace and shortly after they launched the T-Roc SUV in India for Rs 19.99 lakh. The SUV hungry market now has multiple options to choose from and they are all loaded with features, performance packing engines, safety kits, and whatnot.
It may get difficult to point at one car and come up with an opinion, so we are doing a spec comparison between the Jeep Compass and the newly launched Volkswagen T-Roc. The idea is to see how the matchup looks on paper.
Dimensions
The Jeep Compass is a bigger car here by 53mm. The overall length of the car is 4395mm whereas the T-Roc is 4342mm long, but the T-Roc is wider by just a millimetre. The Compass is 1818mm wide and its roof is 1640mm high which is 67mm higher than T-Roc.
They both sit on 17-inch alloy wheels with disc brakes for all wheels. The Jeep Compass can hold up to 60 litres of fuel while the T-Roc falls by just a litre at 59-litre capacity. Both cars are almost similar to each other in terms of dimensions, so it comes to the design aspect.
The Jeep Compass has a more boxy and muscular structure which is loved by the brawl focused Indian customers, while the T-Roc presents itself with a sporty design and athletic presence.
Engine and Performance
The Compass houses a 1368cc inline 4-cylinder petrol engine which makes a power of 162PS and 250Nm of torque, while the T-Roc is powered by a 1498cc inline 4-cylinder petrol engine which makes a power of 150PS and 250Nm of torque.
Both cars produce an equal amount of torque but the Compass produces 12PS more than the T-Roc which is not a dealbreaker kind of difference, but a difference nonetheless.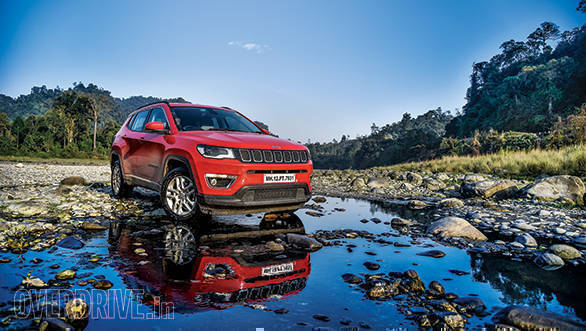 Features
The new T-Roc is feature-packed and some of them are the LED headlamps and taillamps, panoramic sunroof, 2-zone climate control, front-seat lumbar support, heat-insulating windshield, keyless entry, and hill start assist.
The Compass takes care of passenger safety with driver and front passenger airbags, ESC, ABS, anti-skid regulation, driver and front passenger airbags, curtain airbags, front side airbags among other safety features.
On the other side of things we have the Jeep Compass with Android Auto and Apple CarPlay, dual-tone interiors, 17-inch touchscreen display with Uconnect feature, cruise control and for safety, the Compass offers driver airbag, dual-stage passenger airbags, ESC, traction control, electronic parking brake, ABS with EBD and reverse parking sensors.
Pricing
The Jeep Compass is for Rs 19,69 lakh and there are four variants to choose from with a diesel option as well, at the same time the Volkswagen T-Roc is priced at 19.99 lakh and there is only a petrol engine on offer which is mated to a 7-speed DCT.
Both come as a lucrative deal as they both stand shoulder to shoulder in terms of power, performance and features. Jeep Compass look butch and shows off its physical prowess while the T-Roc is new and comes with a fresh face in this segment with its sporty attitude and a jaunty presence.
But all of the above differences of power and numbers were on paper, how they both fare against each other on the tarmac and off tarmac can only be found out after a proper road test, which for now has to wait.
Jeep Compass sport Plus 1.4 MAIR BSVI - Rs 16.49 lakh
Jeep Compass sport Plus 2.0D BSVI - Rs 17.99 lakh
Jeep Compass longitude 2.0D BSVI - Rs 19.40 lakh
Jeep Compass longitude 4x4 2.0D AT BSVI - Rs 21.96 lakh
Jeep Compass longitude plus 1.4 MAIR DDCT BSVI - Rs 19.69 lakh
Jeep Compass longitude plus 2.0D BSVI - Rs 20.30 lakh
Jeep Compass longitude plus 4x4 2.0D AT BSVI - Rs 22.86 lakh
Jeep Compass limited plus 1.4MAIR DDCT BSVI - Rs 21.92 lakh
Jeep Compass limited plus 2.0D BSVI - Rs 22.43 lakh
Jeep Compass limited plus 4x4 2.0D BSVI - Rs 24.21 lakh
Jeep Compass limited plus 4x4 2.0D AT BSVI - Rs 24.99 lakh
Price (Ex-Delhi)
Starts Rs 21.35 Lakhs
Price (Ex-Delhi)
Starts Rs 17.79 Lakhs