Spec comparo: Bajaj Chetak vs Ather 450
Bajaj has made a comeback in the scooter segment but this time the Indian manufacturer has one away with I.C (internal combustion) engines and have brought in the scooter in an electric form. The Bajaj Chetak has been launched in India for price commencing from Rs 1 lakh and go all the way up to Rs 1.15 (Both prices are ex-showroom). Currently, Bajaj Chetak retails only in Pune and Bengaluru and effectively rivals the Ather 450 which is also its flagship offering of the manufacturer in India. The Chetak has been launched in India following the teaser of the Ather 450 X but for now, we shall compare the specs of the current electric scooters on sale in India.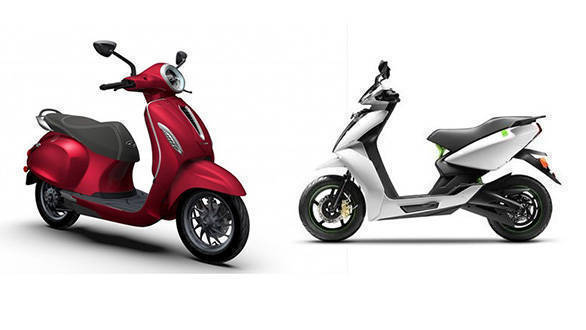 To begin with the drivetrain
Given both these said scooters employ an electric drivetrain - The chetak is equipped with a an electric motor that produces 4.08 kW of peak power while the 450's motor produces a peak power of 5.4kW. Ather 450 also gets an upper hand in the torque output with 20Nm of peak torque available in the rev-range while the Chetak has 16Nm of torque at disposal.
The Ather 450 can accelerate from a standstill up to 40kmph in 3.9 seconds. Bajaj has not yet disclosed the acceleration figures for the Chetak yet, also what's not mentioned is the top speed of the Chetak. Whereas the Ather 450 can clock 80kmph.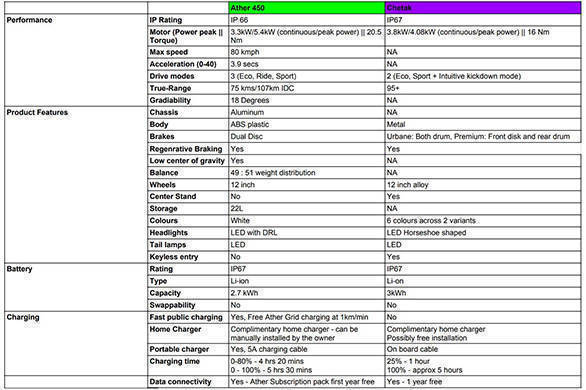 The range of the Ather 450 stands between 75km to 107km while the Bajaj Chetak can do about 95km per charge.
Features
Both the scooters can be connected via smartphone applications whereas the Ather 450's onboard navigation can get over-the-air updates. Both the scooters get all-LED headlamp assembly. And the Ather sports a touch-operated instrument cluster. Both the scooters get a lithium-ion battery with an IP67 rating which makes it dust and waterproof.

Pricing
The Ather 450 currently retails Bengaluru and Chennai for Rs 1.13 on-road. The Bajaj Chetak has been launched in India for Rs 1 lakh and the higher trim retails for 1.15 lakh (both prices ex-showroom). However, the Chetak only retails now Bengaluru and Pune.
Price (Ex-Delhi)
Starts Rs 1,00,000