Spec comparo: Audi A5 Sportback vs Audi A6 vs BMW 520d
Audi has just launched the new A5 Sportback in India, a car that bridges the gap between the A4 and the larger, A6. The A5, though, is a lot more stylish than the A4 or the A6, and therein lies its USP. The sharp crease lines on the bonnet, the sweptback roof line, hunkered stance and frameless doors exude style that's miles ahead of regular sedans. At Rs 54.02 lakh (ex-India), the A5 goes up against its elder stablemate, the A6 and its Bavarian competition, the BMW 520d. Both the aforementioned cars are a tad bigger in size than the A5 Sportback, however, the A5 Sportback is almost as well-equipped as A6 and 520d and as we've mentioned before, it's the styling that is sure to draw customers. Here's how the Audi A5 stacks up against the Audi A6 and BMW 520d.
The Audi A5 is 4733mm long whereas its wheelbase measures 2824mm. On the other hand, the A6 is 4932mm long and its wheelbase measures 2912mm. The BMW 520d is a smidgen longer than the A6 at 4935mm. The near 200mm difference in length as well as the difference in wheelbase suggests that the A6 and 520d have a slightly roomier cabin, but then again, the A5 is aimed at those who prefer sitting behind the wheel, rather than behind the driver. The BMW 520d, is another business sedan that's aimed at those who love to drive, and as we discovered during our test, it indeed is an involving car to drive. Is the A5 as good to drive as the 5 Series? We'll settle that in a full blown comparison test.
Audi A6
The engine specifications is a clear indication of how these German manufacturers have begun benchmarking their car against each other. The Audi A5 and A6 share the same 2.0 litre diesel motor that makes 190PS and 400Nm. The BMW 520d also displaces 2-litres and develops and identical 190PS and 400Nm. Yes, the benchmarking is now down to identical power and torque outputs!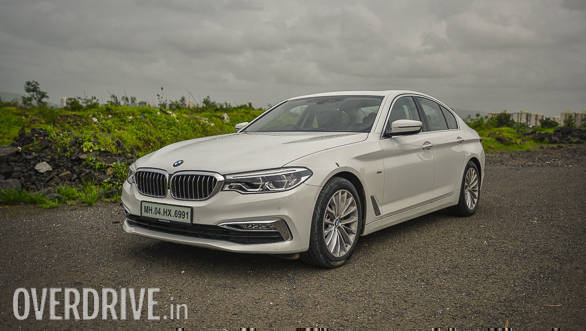 The Audi motor is mated to a seven-speed DSG transmission whereas the BMW 520d's motor is coupled to an eight-speed automatic transmission.
As we've said before, the Audi A5 is a rather interesting option to those who find the A6 and 520d a little too serious. The A5's relatively flamboyant styling makes it quite appealing and as the specifications suggest, the car isin't lacking far behind the Audi A6 or the 5-Series.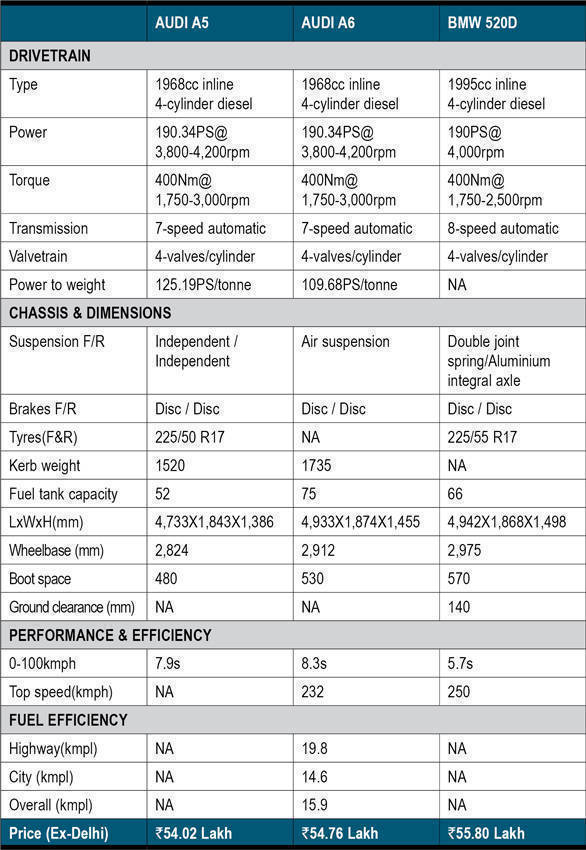 Also see: 2019 Audi A6 | First Drive
Price (Ex-Delhi)
Starts Rs 55.4 Lakhs
Price (Ex-Delhi)
Starts Rs 54.42 Lakhs