Spec Comparison: Kawasaki ZX-14R vs Suzuki Hayabusa
The Suzuki Hayabusa was the very first production motorcycle to crack the 300kmph barrier. At the end of a battle that started with the Hildebrand & Wolfmüller in 1894, the Hayabusa arrived on the scene with the most technologically advanced chassis and engine combination to shatter the barrier. Of course, in the interest of sanity and public safety, motorcycle manufacturers agreed to stop fighting this battle in 2000. But the Hayabusa had already given birth to a new segment of fully faired sports motorcycles that could, in theory, go well past the 300kmph mark. And since 2000, one of its main competitors has always been a Kawasaki – first in the form of the ZX-12R and later as the ZX-14R.
Both motorcycles deliver ferocious performance that translates into 0-100kmph times of under three seconds and top-speeds that are displayed as 299kmph on their speedos. Spec too has always remained more or less equal – both using in-line four motors that make close to 200PS. With the last update, the Kawasaki got a whole suite of electronics that includes multi-level traction control, riding modes, a slipper clutch and ABS. Meanwhile, the Suzuki made do with just switchable riding modes and ABS. But with regards to price, both motorcycles have always been relatively close with price tags that float between Rs 16-18 lakh (ex-showroom).
Now though, the Suzuki has just thrown a trump card into the mix. They have just announced that they will be selling the 'Busa as a CKD kit. This means the Suzuki will be able to one up the Kawasaki with its price.
So in case you are considering which one of the two, we've prepared a spec comparison to give you all the details you will need and hopefully help make up your mind.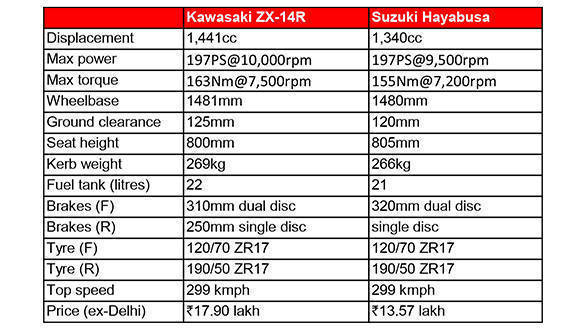 Price (Ex-Delhi)
Starts Rs 16,40,000
Price (Ex-Delhi)
Starts Rs 19,70,000