Spec comparison: 2017 Audi S5 Sportback vs Mercedes-AMG C 43
The 2017 Audi S5 Sportback sedan is sure to get heads rolling over at Mercedes-Benz. The Audi S5 Sportback competes with the Mercedes-AMG C 43 4Matic in the Indian market, and these two sedans hiding turbo/supercharged hearts under their suited exteriors come within a hair's breadth of each other as their various parameters are stacked against one another. Here's what happens when the challenger from Ingolstadt meets the twin-turbo defender of Stuttgart.
From a design perspective, Audi generally goes the understated way, while Mercedes carries its three-pointed star with aplomb. In this case, however, the Audi S5 with the Sportback design's sloping roofline is reminiscent of the larger A7 and just shines out, while it will certainly take a discerning eye to tell that the C 43 is an AMG car. The latter gets larger air intakes and discreet AMG tags on the front diamond grille and the bootlid, as well the AMG-signature quad exhaust pipes to set itself apart from the standard C-Class. It's the 'biturbo' tags on either fender that tell you the story under the hood.
The Mercedes-AMG redeems itself with a 1cc larger engine but much better power figures of 367PS/520NM, over the S5's 354PS/500Nm. This is because the 2,996cc V6 on the C 43 has twin turbos, while the Audi uses a single TFSI unit in favour of lower weight. However, the Mercedes-AMG C 43 still puts out 4PS more per tonne than the latter. Dimensionally, the Audi S5 Sportback is longer by 50mm, but the Mercedes-AMG C 43's wheelbase has a 15mm advantage. The S5 is also 50mm lower than the C 43 while being about 33mm wider.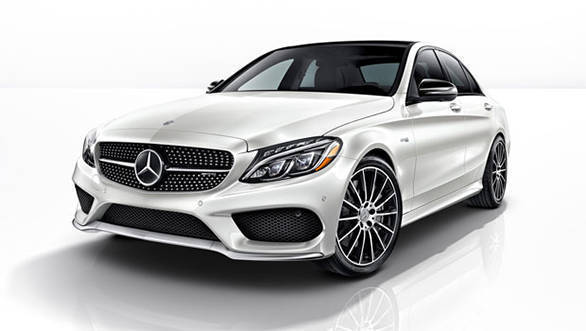 The weight advantage also goes in favour of the Audi at 30kg lower. Fewer kgs help the Audi S5 get to 100kmph in 4.7 seconds, 0.3 ahead of the Mercedes-AMG C 43. Both cars have a similar limited top speed of 250kmph. Fuel efficiency is debatable as we have not tested that Audi S5 yet, which claims to deliver 13.7kmpl overall, while the C 43 has been tested to deliver an overall 7.2kmpl. The latter still has the 8 litres more in its fuel tank. Driving dynamics are close too, with the AMG car bringing 4Matic to the table, while the S5 inherits the Quattro AWD system.
Closely contested as this battle is, we can't wait to find out how different these two sedans are when pitted against one another on the road and track.
Price (Ex-Delhi)
Starts Rs 79.06 Lakhs
Related Stories