Spec comparison: 2017 Volkswagen Passat vs Skoda Superb vs Toyota Camry
The new Volkswagen Passat has been launched at a starting price of Rs 29.99 lakh (ex-showroom). The eighth generation Passat is Volkswagen's flagship sedan that's set to take the fight to its cousin, the new Skoda Superb and the Japanese rival, Toyota's Camry.
The Passat looks very premium, with an array of creases and chrome elements spread across the exterior. The large chrome grille and LED headlamps look striking and the overall stance of the car is very much of a premium sedan. In contrast, the Skoda Superb looks a tad sharper with solid crease lines and a bit more flair in its design. The Toyota Camry looks poles apart from these VW group cars. It is not as sharp as the Skoda and doesn't look very 'business class' like the Passat. That said, the Camry has its own charm and still looks quite contemporary bringing in a different flavour altogether.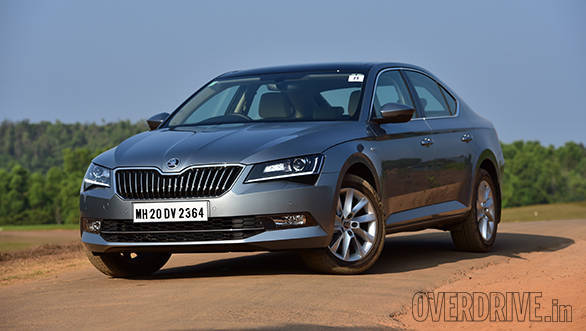 Despite sharing the MQB platform, the Skoda Superb is slightly longer than the new Passat. The new Passat, in fact is the shortest car in this class, at 4767mm. The Superb is the longest car at 4,861mm while the Camry is a tad shorter at 4,861mm.
The Skoda Superb still continues to offer the best cabin space in this class, especially at the rear. At 2841mm, its wheelbase is the longest of this trio followed by the Passat, at 2786mm and Camry at 2,775mm.
Besides sharing the same MQB platform, the Volkswagen Passat and Skoda Superb also share the same 2.0 TDI engine. The motor produces 177PS and 350Nm and is mated to a six speed DSG transmission. The Toyota Camry, on the other hand is only available in petrol or Hybrid variants. It's 2494cc, inline 4-cylinder petrol motor develops 181PS and 233Nm of torque. The Hybrid variants powertrain develops 160PS and 213 Nm only. The Camry is the only car that's available with a hybrid powertrain.
This is how the Passat stacks up against the Superb and Camry on paper.
Also see: Toyota Camry v Skoda Superb v Volkswagen Passat Comparo Video
Price (Ex-Delhi)
Starts Rs 30.2 Lakhs
Price (Ex-Delhi)
Starts Rs 31.99 Lakhs
Price (Ex-Delhi)
Starts Rs 41.7 Lakhs