SMEV signs an MoU with TAITRA to develop EV development infrastructure
Society of Manufacturers of Electric Vehicles (SMEV) has signed a Memorandum of Understanding (MoU) with the Taiwan External Trade Development Council (TAITRA) to put in joint efforts for the development of electric vehicles (EV) through the exchange of information and technology.
The MoU provides opportunities to both parties to discuss issues like their governments' EV policies, EV market trends, technologies, business and investment possibilities available in the EV sector. It also aims at establishing an R&D sector in the country, giving a boost to EV manufacturers in India at the grassroots level. Additionally, the MoU will provide local assistance to representatives of both associations for promoting their business interests Largely, the MoU is expected to bring in more investment and consequently growth to the Indian EV industry.
Mr Sohinder Gill, director-corporate affairs, SMEV said their association with TAITRA will provide essential growth tools to the Indian EV sector and help manufacturers in addressing the challenges real solutions. The stated that this MoU underlined the commitment of both partners to the government's vision of 100 % electric mobility in India by 2030.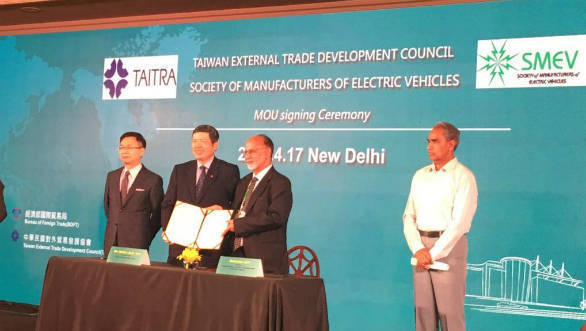 SMEV is the registered association representing Indian manufacturers of electric vehicles (EV) and electric vehicle components. SMEV works with the central and state governments to assist the formulation of policies and processes supporting the EV ecosystem. SMEV plays an active role in the discussion of the issues faced by the electric vehicle industry and practical aspects to help enhance the penetration of electric vehicles towards meeting the goals of our nation.
The government has set very optimistic targets in its plan for creating a fully functional ecosystem for electric vehicles in India. It will be a big challenge to fulfil and initiatives from the private sector, such as this one, will go a long way in reaching these targets.