Smart headlight system being developed that will help drivers see through snow and rain
Tired of thunderstorms or snow interrupting your drive? Worry not! A team of researchers from the  Carnegie Mellon University (CMU) have developed a smart headlight system that that will help riders and drivers find their way through a snowstorm or rain. The system helps by redirecting light through the precipitation particles. What it essentially does is prevent the glare that happens when the precipitation reflects the headlight beam back at the driver.
Srinivasa Narasimhan, of Indian origin, who is an associate professor at CMU's robotics department has been vital in developing the smart headlight system. He said that in a heavy downpour, the system will make it seem just like a drizzle, thereby improving the visibility. He says that the naked human eye will not be able to see the flicker of the headlight. Further explaining the system, Narasimhan said that the smart headlight system uses a camera to track the rain drop motion and then uses a computer alogrithm to predict the position of the particles after a few milliseconds. Since the precipitation particles aren't been highlighted, the driver will be able to see clearly.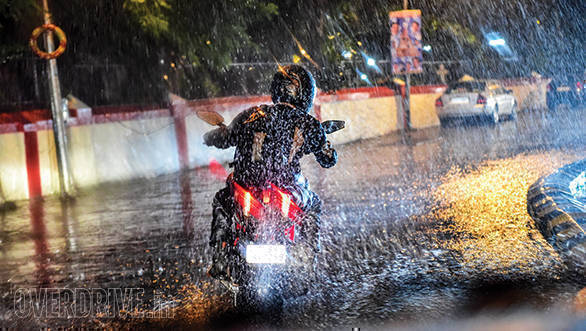 While rain drops, to human beings, appear as elongated lines that fill the air, the system recognises it as discrete drops. This leaves enough space for the light to be distributed effectively by the headlight system. During lab tests, it was established that the system can adjust the beam in 13 millisecond depending on the intensity of the rain. There is also scope for the system to reduce the time taken to respond, thereby allowing it to be used successfully to mainstream vehicles.
How and when this comes to modern day cars and motorcycles is anyone's guess though.