Skoda unveils concept car Sunroq
Convertible SUVs seem to be catching a fewy manufacturers fancy, these days and Skoda is next to jump on the bandwagon. Students of the Skoda Trade School have built an open top version of the Skoda Karoq SUV, christened the Sunroq. This, however, is a one-off vehicle and Skoda has no plans of introducing the same in the markets around the globe.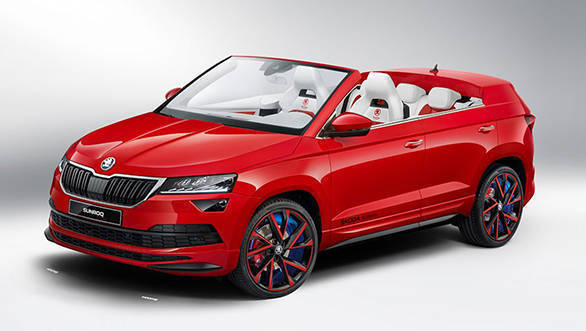 The Sunroq, then, is an exhibition of what the students at the Skoda Trade School could come up with and it certainly looks interesting. Twenty three students took eight months to design and create this one - off concept. The students also used social media to interact with Skoda customers to come up with a name for the car. Eventually, Sunroq was chosen because it not only sounds like a derivative of the Karoq but also because the name suggests the concept's openness to the sun.
The car looks unmistakably Skoda and barring the absence of a roof and the redesigned rear end, the Sunroq looks exactly like the Karoq.
The Sunroq is swathed in a glossy red paint job, and the stylish alloy wheels too painted red. The Sunroq is shod with low profile tyres in keeping with its concept car role.
The interior trim and equipment is identical to the Karoq's but the concept gets white seats and door panels that contrast with the exterior paintwork.
The Sunroq is powered by a 1.5-litre TSI engine that propels the car from 0-100kmph in 8.4s.
The students, at the unveiling, said that they wanted to create a car that would appeal to the younger generation at first sight and that they've managed to achieve that with the Skoda Sunroq.
Price (Ex-Delhi)
Starts Rs 24.99 Lakhs