Skoda Auto India survey: More car buyers preferring safety
Skoda Auto India, in collaboration with NIQ Bases, carried out a survey that revealed more customers are inclined towards buying a safer vehicle with a safety rating over a feature-rich car. In fact, according to the survey 9 out of 10 people want to have a safety rating for their car. The survey witnessed about 1,000 participants from various states. Out of them, around 67 per cent were car owners who have a car that costs above Rs 5 lakh, while about 33 per cent did not have a vehicle but are planning to buy a new one, which is priced above Rs 5 lakh within a year.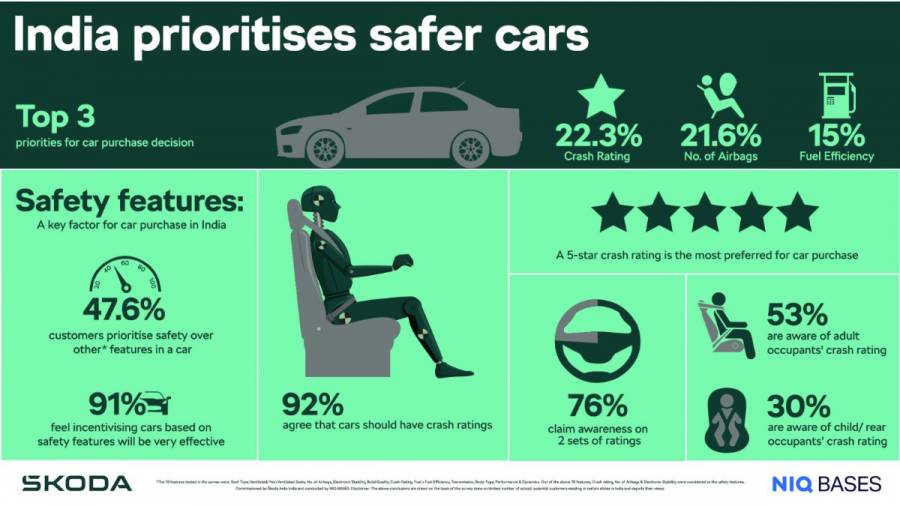 The survey that was commissioned by Skoda Auto India and conducted by NSQ Bases revealed that the crash safety rating was the priority for the 47.6 per cent customers while buying the car, followed the number of airbags and fuel efficiency in the vehicle. Further, about 92 per cent of participants stated that they would prefer crash tested cars. Out of which, approximately 22.2 per cent contributors a five-star safety rating, while 21.3 per cent preferred a four-star safety rating. Interestingly, only 6.8 per cent participants preferred zero-star crash test rating. However, it also disclosed that merely 30 per cent of customers are aware of separate child/rear occupants' safety rating.
Petr Solc, Brand Director, Skoda Auto India, said, "For us at Skoda, safety is part of our DNA and it is our philosophy to build safe cars. We have an over 50-year legacy with crash-tests and safety. And since 2008, every Skoda car has been crash-tested globally, and in India, with a 5-star safety rating. The survey reveals Soda to be perceived as among the top-3 brands having models with high safety ratings. With India's rapidly growing infrastructure, and the upcoming proposals for India's own crash-testing standards, it is heartening to see consumers being aware of and demanding safety. This is the right way forward. And Skoda will continue focusing on these values to grow the brand in the Indian market.
Also read:
The Mahindra Armado commissioned in the India Army