Should Toyota build a 270PS Fortuner V6?
In February last year, while replying to a tweet from Great Britain, Toyota explicitly hinted that it wants to build performance variants of all of its models. Of course, this doesn't necessarily mean big engines feed loads of horsepower to fat rubber - but essentially envisions variants that enhance the performance or strengths of the particular vehicle. Like the Prius TRD which wears an outrageous looking but more aerodynamic bodywork that enhances range, or the Camry TRD which has got a contrasting stiffer suspension, larger brakes, underbody braces etc. alongside the sportier bodywork.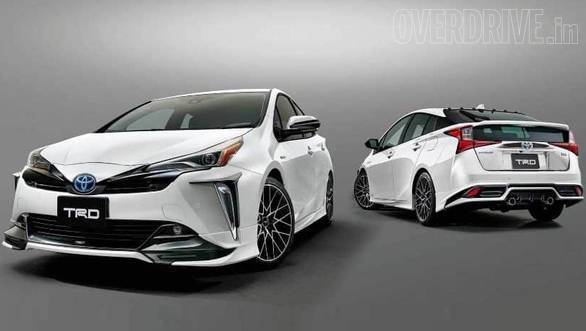 Toyota Prius TRD
Toyota TRD
Of course, TRD treatment isn't new - but with Gazoo Racing now joining the fray, Toyota is looking at erasing its long-standing image of only building boringly reliable cars. Hence the move to build performance variations of everything in its line-up - and while we don't know if the conservative minds at Toyota India will resonate with this decision, there is no harm in wishing for an Innova TRD or a GR Fortuner that extend beyond jazzy trimmings.
Toyota Hilux GR Sport
This wish of ours stems from a recent report that has surfaced the internet, which points towards a Toyota GR Hilux. Toyota has already showcased a Hilux GR Sport variant which wears sporty graphics and sits on stiffer springs, but a more capable GR Hilux is said to be in the works, to take on the Ford Ranger Raptor in the global markets.
Australia, which is a big market for performance pick-ups, is reporting (courtesy of Cars Guide) that the said GR Hilux will get a shiny new turbocharged diesel V6 which is slated to make its debut in the next-generation Land Cruiser LC 300. Cars Guide believes that the engine will match or surpass the 270PS/650 Nm output of the outgoing 4.5-litre diesel, and in the GR Hilux application, that kind of power will also come with larger brakes, chassis reinforcements and a smarter four-wheel drive system.
Toyota Hilux V6 GR Sport
The Fortuner, which is an SUV based on the Hilux platform, can certainly benefit from these developments and we so wish it does. With the Endeavour downsizing to a 2.0-litre diesel, a hardcore, off-road focussed Fortuner V6 pushing out close to 650 Nm of torque would be the perfect animal in the booming niche SUV segment, we think. If that is too wishful, at least give us the 4.0-litre 235PS/375 Nm V6 from the Hilux GR Sport, Toyota?
What are your thoughts?
Price (Ex-Delhi)
Starts Rs 29.98 Lakhs
Price (Ex-Delhi)
Starts Rs 37.88 Lakhs