Sherco TVS's Michael Metge scores second consecutive Baja Aragon victory
TVS Racing and Michael Metge dominated both days of action at 2019 Baja Aragon Rally. This was the second consecutive win for the French rider at this event
On Day 1,  two Super Stages across 250 kilometres were held where Michael Metge grabbed first position. Lorenzo Santolino followed in seventh position while Harith Noah and Aishwarya Pissay followed at P10 and P38. Aravind KP crashed at the end of SS2 and retired. The HeroMotorsport Team Rally had a less than ideal showing after  Joaquim Rodrigues suffered a crash having made slow progress given his back-of-the-grid start.
Michael Metge continued his good form into the 250 km of stages in Day 2. His teammates Santolino and Noah also put in good performances and finished in P4 and P7 respectively. As for the Hero Motosport riders, Santosh and Rodrigues recovered from their earlier misfortunes to finish at P10 and P25. TVS's Pissay had a good result too, she finished fifth in the women's classification, although there were only five women competing in the event.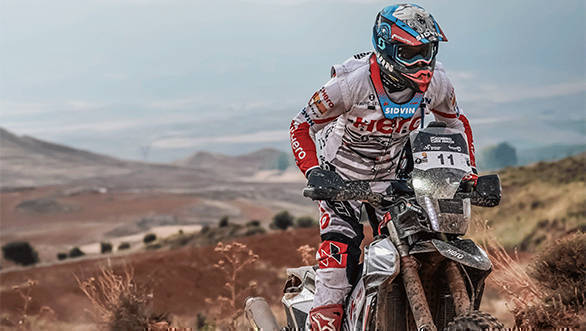 CS Santosh at the 2019 Baja Aragon
India's only privateer, Ashish Raorane, ran into mechanical troubles on Day 1 and eventually ended the day in position 17. His troubles continued into Day 2 which eventually caused him to end the rally in 21st place.
David Casteu, team manager of Sherco TVS Rally Factory Team said of the team performance, "We are delighted with Sherco TVS Rally Factory Team's outing in Baja Aragon. Michael was in excellent form throughout the Rally, never relinquishing the top spot. Lorenzo's recovery post has been phenomenal leading to him performing exceptionally well. Our Indian rider Harith's training with the team has reaped rewards with him securing a top 10 finish. We hope to continue with the same momentum for the upcoming rallies."
Metge said of his win, "I am thrilled to be finishing at the top for the second time. Baja is a great learning ground as the stages are long and challenging. I am grateful to Sherco TVS Rally Factory Team for the support. I had a solid outing with my teammates Lorenzo, Harith, Aravind, and Aishwarya and I wish them the best for the future Rallies."
Price (Ex-Delhi)
Starts Rs 54,042