Sherco TVS Rally Factory Team announces three-rider squad for 2019 Rally of Morocco
The Sherco TVS Rally Factory has announced their three-rider squad for the 2019 Rally of Morocco. The five-day rally that will take place between the 3rd of October and the 9th of October is the final round of the 2019 FIM Cross Country Rallies World Championship. The three who will compete in the event for the Sherco TVS squad are Michael Metge, Lorenzo Santolino and Johnny Aubert.
This will be Michael Metge's second outing at the Rally of Morocco. The French rider has won the Panafrica Rally in 2018, and has also won the Baja Aragon in 2018 and 2019. He brings seven years of Dakar experience to the table. Speaking of the Rally of Morocco, Metge said, "I hope to better my overall performance from the previous Rallies and give it my best shot. We plan to finish the stages with a strategic momentum and end the Rally on a high note."
Michael Metge
Lorenzo Santolino joined the Sherco TVS squad in 2018. He was crowned Enduro World Champion in 2010, and also won the Spanish Enduro and Xc titles a total of seven times. He finished the 2019 Baja Aragon in fourth position.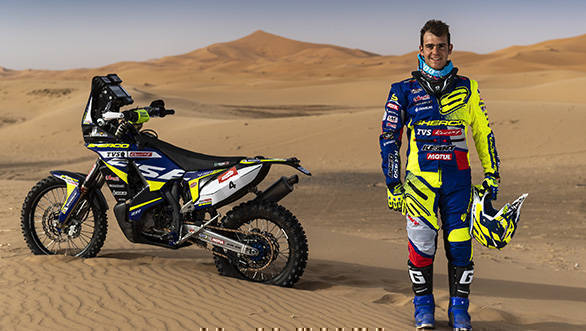 Lorenzo Santolino
Johnny Aubert, the team's third rider, is a double World Enduro Champion, and has won more than 40 enduro grands prix. Aubert finished the 2018 Dakar Rally in sixth position.
Johnny Aubert
The 2019 Rally of Morocco will cover 2500 kilometres, spread over five stages, over the course of six days.  One hundred and sixty competitors will travel through the dunes and tricky trails of the Moroccan desert across different stages and routes around Erfoud and Fez.
Speaking ahead of the rally, B Selvaraj, team manager TVS Racing, said, "The dunes of Sahara Desert at the Rally of Morocco have always been a testing ground for us. We intend to challenge our previous stints in the Rally and hope to deliver consistent performances in all stages. I wish our riders all the luck for Rally of Morocco."