Shekhar Choudhury and Suvrajit Dutta win MRF Rally de Bengal
The Second Round of the MRF FMSCI Indian National TSD Rally Championship 2016, the Rally de Bengal, concluded in Kolkata on 11th September, 2016. Shekhar Choudhury and navigator Suvrajit Dutta, driving a Maruti Suzuki SX4, were crowned the overall winners with penalty of 6min and 17.5sec. The duo, along with drivers and navigators from six other teams, will compete in the national finals.
Happy to have won the rally, Shekhar said, "It was an excellent route and the second leg was really fast. I enjoyed it immensely. Having second position in Round 1 and winning Round 2 got us 18 out of a maximum possible 20 points, thereby qualifying for the national finals."
Soumyadeb Shaw and Souvick De Sarkar, in a Maruti Suzuki Baleno, finished the rally a close second, with a penalty of 6min and 29sec. In third were Lakshman De Bankura and Punyabrata Barma in a Mahindra Thar. They got a penalty of 18min and 40sec.
Participants had to cover 115km over dirt and tarmac sections. The course consisted of both public and private roads and posed numerous challenges as none of the competitors were aware of the route. To add to the challenge, the organisers Ramakrishna Race Performance Management (RRPM) had introduced Secret Time Controls and Self Time Controls.
The Secret Time Controls are placed at certain points along the route to monitor the cars and keep a check on speeds. The time taken to traverse each Time Control is noted and penalties, if applicable, are handed out.
The Self Time Control was introduced so that the competitors can note their timing down, themselves. The organisers say that this discourages high-speed driving and brings down the chances of any mishaps.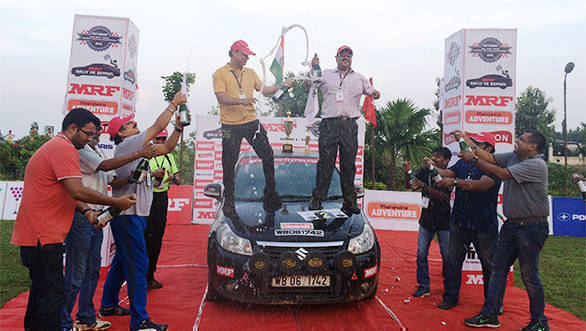 TSD rallies are all about maintaining average speeds and precise times. The road book helps the navigator/driver stick to a predefined route and the average speeds that need to be maintained. Quick and precise calculations, hence, are imperative to stay on top.
The marshals at Time Controls note the time taken by each car and compare these to a predetermined ideal time. Penalties are handed to teams for arriving earlier or late to a Time Control. The penalty for arriving earlier is higher.
At the end of the rally, teams who've received the least penalties win.
Price (Ex-Delhi)
Starts Rs 9.8 Lakhs
Price (Ex-Delhi)
Starts Rs 6.35 Lakhs