Scooters coming to India in 2015
For this year, the scooter market will continue to post the incredible growth numbers that we have seen over the past few years. While nudging the Activa off its pedestal is extremely unlikely, you can be sure that there will be many, many automatic scooters that will enter the fray in 2015. The market is still expanding and it's too big a market right now for scooters to take away each other's share. Here are the scooters that you would be able to buy in 2015 as the year progresses.
Bajaj Auto Limited
Wow. Bajaj is making a scooter? Well, no. Rajiv Bajaj has been pretty clear repeatedly that his interest in the scooter market remains weak despite the strength of the market. We are certain that Bajaj's dealers would be a lot happier with scooters to sell.
But Bajaj is pretty clear that scooters do not interest him at this time. He believes that his company is a motorcycle company with global ambitions. And globally, motorcycles dominate. So 2015 as a year for Bajaj to launch a scooter? Not going to happen. They're going to be busy with other things.
Hero MotoCorp
Hero has the Pleasure and Maestro in the market right now but as we learnt at the 2014, it has aggressive plans.
The Hero Leap is destined to be India's first hybrid scooter, that too developed by Hero with some help from Erik Buell Racing. Hero revealed that the Leap was to go on sale early in 2015 and that should mean that a launch date should be coming soon. The 140kg Leap gets an 11PS 124cc engine as well as an electric motor. The range extender hybrid should hit 100kmph with help from its 8kW/60Nm electric motor. Expect the Leap to be expensive and appeal to those who'd like to make a statement more than those who want a utilitarian or ultra-efficient scooter.
Hero Leap
The utilitarian scooters will come after July this year. The Hero Dare, for example, is a 125cc scooter making 9.38PS that is expected to go on sale soon. We know the Auto Expo model was slightly larger than the other 125s in dimension but we cannot wait to see what the final production version will be like.
Hero Dare
The Dash will be the 110cc scooter from Hero. It is also expected to go on sale after July 2015 but Hero is unlikely to start selling them all at one go, so chances are they'll space them out over the year. The Dash, unlike the overwrought, busy Dare, looks simpler with some sculpting.
Hero Dash
Finally, Hero's 150cc Zir is to be the big, flash fast scooter that evolved scooter riders can use. However, it isn't part of this story because it was supposed to be launched in early 2016.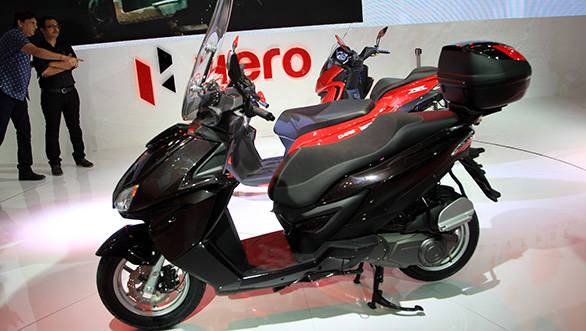 Hero Zir
Honda Motorcycle & Scooter India
Let's get this clear. Even if Honda refresh the Activa in 2015, we don't believe the scooter will get any significant improvements outside of styling. This is because the Activa's dominance in the scooter market, as well as in Honda's sales numbers makes it too important to tinker with. Will it (finally) get telescopic forks this year? We're going to say no. Honda will not fix what ain't broken.
Honda Activa 125
What Honda might do, instead, is launch a 150cc automatic. This should be a full-on premium scooter with disc brakes and perhaps even ABS. Honda may not, however, risk a very strong styling statement and stick with a Honda Activa 125-like safe but premium design.
Mahindra Two-Wheelers
The Gusto has showed that Mahindra are learning how to make two-wheelers and learning fast.
What will they do in 2015? We think that the models in the current range will all receive updates. In the process, all the scooters will gain performance as well as economy.
Mahindra Gusto
Mahindra Two-Wheelers should also introduce a completely new platform during this year. Our guess would be either a 100cc platform for entry-level scooters or a 125cc platform that replaces the current 125cc engine with a thoroughly new powertrain and chassis.
Also see:
Mahindra Two-Wheelers completes acquisition of Peugeot

Analysis: Why Mahindra wants Peugeot Scooters 
Suzuki
Suzuki have seen good business from the Access, Swish and Let's. Next we expect the excellent Let's to form the basis for other Suzukis, including a more masculine looking version and perhaps a slightly larger family version as well.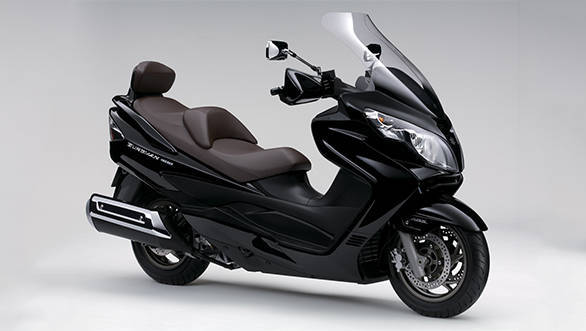 Suzuki
What is exciting for us, though, is that Suzuki know from the warm reception of the Inazuma - despite the slow - that India is ready to experiment a bit and spend on vehicles that don't fall into (already) established categories. The updated.
Suzuki Let's
Could Suzuki spring a completely unexpected surprise by assembling and putting on sale something large like a Burgman? We would not bet against it. The company, of course, refused to comment on this.
TVS
TVS' Scooty Zest 110, as we've repeatedly noted, is a notch above the rest of the scooter class. What will TVS do for 2015?
We are expecting to see dramatic upgrades to the Jupiter and Wego that result in lighter scooters that offer both greater performance and economy.
TVS is also likely to have a new sporty scooter based on the Graphite concept from the 2015 Auto Expo ready later this year. Will it go on sale? TVS is tightlipped and we are, as ever, hopeful.
TVS Graphite
What else? Well the Scooty Streak and TVS' other scooterettes are well overdue for an update so that should be one of the things that TVS might announce this year.
Piaggio/Vespa
Will 2015 be the year when the Vespa 946 goes on sale at an unbelievably high price? We think not. The 946 was shown at the 2014 Auto Expo as a possible CBU import scooter but it just doesn't make sense for the potential numbers the scooter will do. We don't believe the 946 is coming. Most likely not in 2015, perhaps never.
What will be coming are variants based on the current Vespa LX 125. If the Primavera arrives - the design that replaces the one we get - that would make us really happy.
Vespa Primavera
But first, we expect to see the first Piaggio branded scooter. The Fly 125 (pictured) has been rumoured to be headed here. But the fact is that Vespa sales are neither hunky nor dory and there's a desperate need for products that will utilise the enormous two-wheeler factory Piaggio have in Baramati.
Piaggio Fly
We believe a 125cc scooter will be key. This time, the scooter will share the Vespa's powertrain but instead of funky retro styling and self-indulgent pricing, this will be a regular scooter to take on the rest of the Indian scooter world. Which is why it cannot be a Vespa. We expected to see it wearing a relatively modern skin and play to the current ladies-gents-family trifecta of scooter styling in India.
Because the Vespa brand seems to have painted itself into a corner, this Piaggio branded scooter is the one that will bring serious volumes and will be the driver of growth and profits for the company.
Yamaha have tasted unprecedented success in India with their line of scooters that began with the Ray. In 2015, strong rumours say, Yamaha will release their 125cc line of scooters into battle. Being a Japanese company, they say absolutely nothing on the subject, but we believe the launch is set for March or April, 2015.
The whole Internet appears to believe that a scooter named the 08X internally would be the one for India. This scooter (pictured) is called the Nozza Grande in Vietnam where it has gone on sale featuring a 125cc fuel-injected engine.
Yamaha Nozza Grande
But this Nozza Grande coming to India seems to be be convenient speculation rather than founded on any real basis.
Yamaha's Ray has been a good story for India and we would think that it should have reiterated to Yamaha that Indian products that taste success are usually specific to our country. Transplanted products tend not to be volume successes. In that vein, we would believe that Yamaha would be working on an India-specific 125cc engine featuring a carburettor and efficiency-oriented engineering. If they can bring the set of tweaks they call Blue Core to bear on this engine, they might actually have one of the most efficient scooters in the 125cc market.
Because scooter market pricing is a very tight band, we do not believe Yamaha will have the latitude of launching a fuel-injected scooter - though it could be the top-end variant that comes to the market later. Our tip? Yamaha will launch an India-specific 125cc scooter, probably with family or unisex styling around April this year. Could Blue Core allow Yamaha to create a 125cc class scooter boasting a smaller displacement engine? That would be uh. . .  interesting. Nay, a D'elight.
Also see:
Motorcycles coming to India in 2015
New hatchbacks coming to India in 2015
Sedans coming to India in 2015
Biggest automotive let-downs of 2014: From minor misses to epic fails
OVERDRIVE's most viewed car reviews of 2014
.
Price (Ex-Delhi)
Starts Rs 44,900
Price (Ex-Delhi)
Starts Rs 67,490
Price (Ex-Delhi)
Starts Rs 77,900
Price (Ex-Delhi)
Starts Rs 53,127
Price (Ex-Delhi)
Starts Rs 77,816
Price (Ex-Delhi)
Starts Rs 1,02,700