Ruhaan Alva wins Round 2 of Easy Kart Championship in Italy
Ruhaan Alva wins his second race in the 2017 Easy Kart Championship in Italy
Ruhaan Alva took part in the Mini 60 category of the Easy Kart Championship in Italy last month. He won the race, but decided to move to a tougher class of the championship, in order to face proper competition, thus honing his racing skills. For the second round held at Lonato in Italy, Ruhaan competed in the Easy 60 category.
Despite the tough competition, Ruhaan managed to qualify on pole for the grid that comprised 27 drivers. He then went on to drive very skilfully during the final race, ultimately taking the race win on the last of the 12 laps. Ruhaan managed to get past both Patrese Lorenzo of Italy, and Adam Kowalski of the Czech Republic, taking the race win.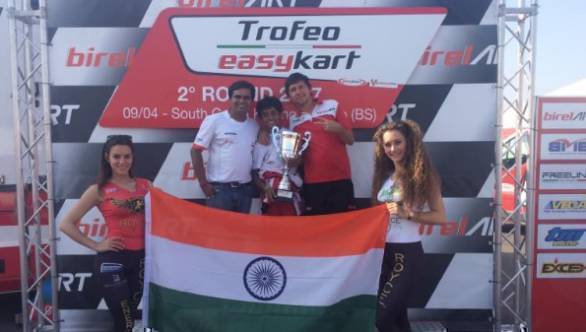 Ruhaan Alva on the podium at Lonato in Italy
Birel ART India's team principal Marco Bartoli said of Ruhaan's performance, "We are very proud of Ruhaan's win today. The top three kept swapping positions until the last lap. With one lap to go, he overtook two drivers and pulled off gap to the chequered flag. He made India very proud!"
Ruhaan's win means that he is now fourth in the championship standings, with 28 points. The three drivers ahead of him are Adam Kowalski with 44 points, Patrese Lorenzo with 36 points and Daniele D'Urso with 34 points.