Ruhaan Alva crowned Easykart 60 vice champion
A victory and a fourth-place finish in back-to-back rounds of the 2017 Easykart Championship's Easykart 60 category has resulted in a second-place finish in the championship for Ruhaan Alva. Ruhaan ended the final round of the championship at the Lignano Sabbiadoro circuit in Italy with 136 points. This was equal to the points that Patrese Lorenzo had, but Ruhaan took the runner up spot based on the fact that he had more wins - three - to Lorenzo's one. The winner of the championship was Daniele D'Uroso, who finished 18 points ahead of Ruhaan.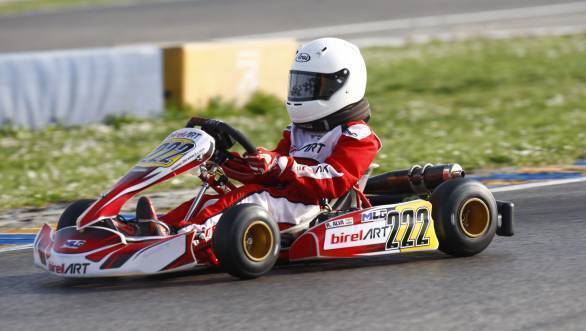 Ruhaan Alva has been crowned vice champion in the Easykart Championship's Easykart60 category
Ruhaan's finishing position in the championship was especially noteworthy given that he had missed the first round of the Easykart 60 category, having participated in the Mini category instead, before making the switch to the more competitive class.
In Round 8 held at Lignano on Saturday, Ruhaan qualified fourth in the heats, took second in the pre-final race, and managed the fastest lap along the way. In the final, Ruhaan finished second on track behind Adam Kowalski. However, Kowalski was later given a 10-second penalty for starting the race on the wrong side of the grid, which pushed him down to eighth position. Ruhaan was then adjudged the winner.
Ahead of Round 9, which was held the following day, Ruhaan was third in the championship, three points behind Lorenzo. He finished the heats in ninth position, took fifth place in the pre-final race, and fourth in the final. This gave him 13 points, which helped him pip his rival Patrese to second in the championship.
"Overall, it was a fine performance by Ruhaan on debut in such a competitive championship. He started the season in the Mini category and won the opening round easily. We then decided to move him to the higher Easykart 60 category which had a bigger and more competitive grid. It was a steep learning curve for Ruhaan, but we are happy that he performed so well with three wins and a couple of podium positions to finish the championship as the vice champion," said Ruhaan's father Umakanth Alva.