Royal Enfield Himalayan: Things that thrill and things that don't
Rishaad and I are in Shimla to ride the new Royal Enfield Himalayan and as you should know, Mody has already filed his first impression of the motorcycle.
We rode together today for about 80km cutting a 105km ride short thanks to the incredible Himalayan weather. A ray of morning sunshine rapidly gave way to a day of gloomy grey to menacing dark clouds, hail, rain, snow and plummeting temperatures. Through all this though, the Royal Enfield Himalayan remained frostbite free - us riders only just. Here are the things that I believe you'll love about the Himalayan and the things I wish Royal Enfield had done different.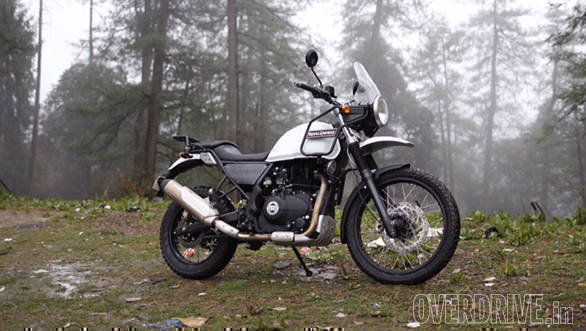 Love: The feel of it
Royal Enfield and Siddarth Lal have gone on and on about how they want to make an India-ready touring motorcycle built to the needs of the Himalayas. A bike that would do enough to be your only bike but not be extreme like a current day adventure tourer. It's a muddled idea that's a little hard to grasp, no?
Well ride the bike and the idea shines. I loved how easy and friendly the Himalayan felt today. It's a combination of a narrow chassis, lightweight feel, reasonably quick but not frantic responses and an easy flow of torque from the engine. And it's delicious. Almost anyone should, in my book, be able to ride a Himalayan and see the puppy dog friendliness shining bright.
The character is important to Royal Enfield because a lot of potential customers are set to be upgraders who might not be mentally prepared for a harder core motorcycle.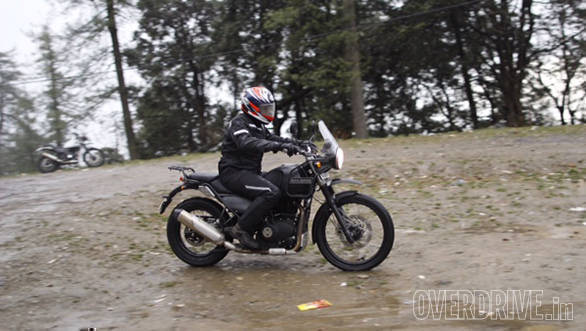 Like: Dynamics
Let's be clear about this, the Royal Enfield Himalayan is neither the best handling motorcycle in the segment nor does it have the best ride quality. But the setup choices Royal Enfield have made on the Himalayan are surprisingly astute. Especially considering how new to the all-new bike game the company is.
The motorcycle handles neatly and effortlessly. We had no high-speed action today but in trying conditions, you'll find the Himalayan firmly on your side. In slow and mid-speed, slippery-wet conditions, I quickly stopped worrying about the bike and rode on. Once my hands froze fully, I even relied on this to get back to the hotel. Very neat!
The ride is very cool as well. Some of the confidence in the Himalayan comes from the feedback the bike returns over smaller, sharper bumps that make you feel plugged in. On one section we transitioned from good but wet tarmac to tarmac with a thin layer of snow-slush. I was surprised at how much contact patch feel I had and how much throttle I was willing to use without drama.
The Himalayan impresses even more by matching this stiff-feeling ride to excellent big-bump absorption. I hit numerous water-filled craters today both on- and off-gas that were handled by the 41mm forks and linkage-tyre rear monoshock without complaint or significant directional movement. That kind of balance on budget, non-adjustable suspension is truly classy.
Like: Ergonomics and comfort
It was a tiring 6-7 hours on the saddle with the wet and the cold causing fingers and toes to nearly freeze and what have you. But the Himalayan is one comfy motorcycle. I'm more stiff from the cold than the ride to be honest as I wrote this.
The rider seat is narrow enough to have feet down confidently and the foam is supportive too. I would only ask for a flat profile instead of the shallow trough because it allows more flexibility and tenth hour squirm room.
You sit upright with hands naturally falling to the grips with forearms parallel to the ground. It's a good, effortless riding position that I wouldn't mess with. Some of the stupidly tall riders might have felt better with a taller handle but I wouldn't change a thing.
Like: Torque
As you know the LS410 is a long stroke engine designed for torque. This is apparent. We rode in the 2,000-3,000rpm range and the torque is sweet and readily available. We didn't go faster but Siddarth Lal said his run around Hampi had long stretches in top gear action just under 4,000rpm which felt peaceful but not placid.
The flip side is that by 4,500rpm the easy, audible beat of the engine changes to something more thrashy and it encourages you to shift up rather than dwell in that relatively mild top-end. It isn't a motorcycle you redline, clearly.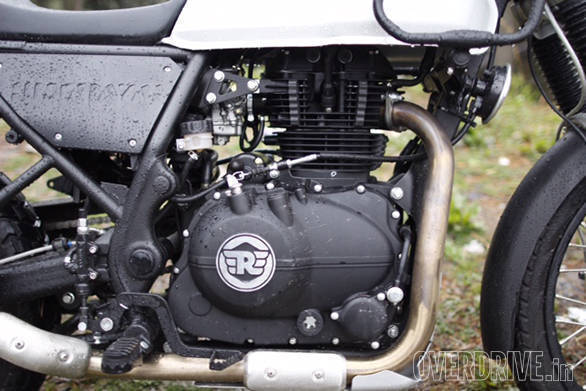 Dislike: Is 25PS enough?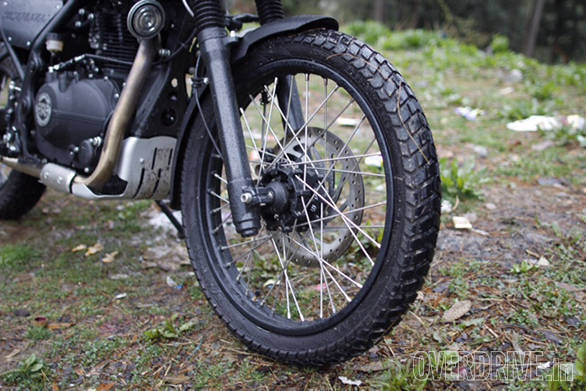 The trouble with the carbureted engine is two-fold. First the carbs cannot reproduce the crisp responses of fuel injection. This can make the Himalayan feel a little slow to respond though the throttle response is very much in character with its relaxed, easy feel. So sometimes when you want more snap you've to change two gears down instead of one. A few times you'll cross 4,500rpm in this process and experience that thrashiness.
Second, I did actually miss not having more power. With another 10PS, the Himalayan would go from impressive to epic. There'd be more torque available and more importantly, a 160kmph-ish top speed would bring a sweet cruise speed range between 100-130kmph.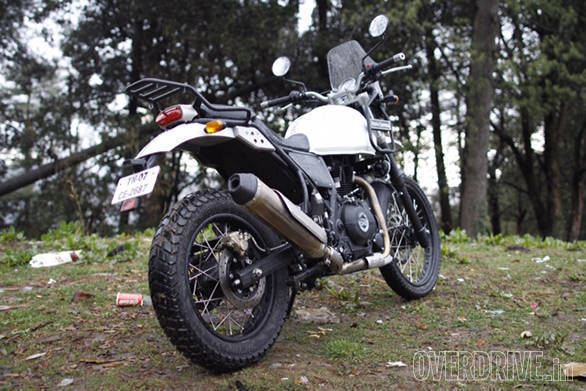 I asked Siddarth Lal about this and his answer was simple, "Every enthusiast in the company - and we have loads - wanted more power!" But the reasoning for the restraint is two-fold. First, bigger power would've come with a drastic drop in economy according to Lal and might make many unwilling to use the Himalayan as often as they're going to do now - expect 30-34kmpl in the real world, standard IRC figure is about 40kmpl.
The second reason is pricing. While we don't know the price yet, Royal Enfield is clear that access to the Himalayan should be easy - price is a factor. Pushing the power output would mean a beefier frame, a higher spec for many things and push the price up. That's not something Royal Enfield wants to do right now.
Dislike: Missed shifts
Mody, me and at least three other journalists' bikes had some false neutrals and misshifts with some regularity today. It didn't happen often enough to be a major issue but it's something that made me pay extra attention to gear changes, especially 1-N-2. This is something I'll be keeping an eye out for when the bike comes for road testing. Just so you know, another journalist heard me describe this and said, "The gearbox on my bike was like butter! Not a single missed shift at all!"
Observations
Design and finish
There are specific areas where the Himalayan can improve but it's well-made overall and feels like it'll last a long time.
The design is interesting. RE has avoided too much adornment. The bike looks made to a purpose and it's not pretty. But it has a direct, strong appeal and I really liked its quirky-functional, lean design.
Clocks
Very comprehensive clocks! I'd add a waterproof power outlet of some kind and it would be sorted. That said, the speedo has too many markings and it seems unnecessary to have so much clutter there.
The hazard switch would be better placed next to the right thumb.
The compass shows an arrow that points north and displays the direction the bike's heading as text. This takes some getting used to. I'd have gone with either of the two, not both, for clarity.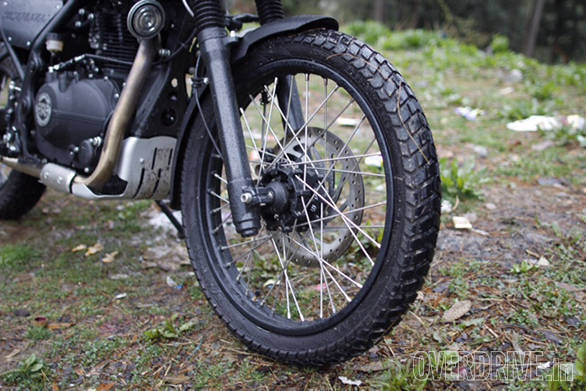 Brakes
Very nice brakes overall though mine - and only mine - squealed at mid-pressures. Bite is friendly and today was just too wet to try full power. That said, I would like to see ABS - with the ability to turn it off for at least the rear wheel. And personally, just a dash more bite.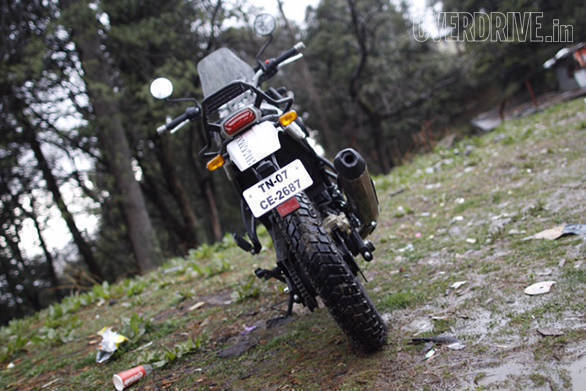 Tyres
Full credit to Ceat for these tyres. They're surprisingly effective despite today's cold and wet conditions. I've not been able to try them in dry and fast conditions but Ladakh is certainly well within the capability of the tyres.
Vibration
Well there isn't any to speak of. The new engine is counterbalanced and rubber-mounted and it's a smooth one overall. Thrashy sounding when accelerating past 4,000rpm but quieter at cruise and more or less vibe-free.
OVERALL
I'm really excited for Royal Enfield. The Himalayan is a surprisingly mild motorcycle in nature but it's very effective and appealing too. I didn't believe that combination was possible, let alone persuasive. I suspect it'll make a tremendous all-rounder with serious bad-road cred and substantial off-road capability while allowing you to commute to work daily.
That is, in fact, the promise Royal Enfield made when the Himalayan buzz started. And unless something changes drastically when we road test the bikes, it looks like they've delivered.
Image gallery: 2016 Royal Enfield Himalayan first ride review
2016 Royal Enfield Himalayan first ride review
Spied: Royal Enfield Himalayan on the assembly line
Royal Enfield Himalayan gets ready for debut
Royal Enfield Himalayan to be showcased in India on February 2, 2016
Royal Enfield Himalayan unveiled
Image gallery: Royal Enfield Himalayan
Videos: 2016 Royal Enfield Himalayan
Price (Ex-Delhi)
Starts Rs 2,01,000