Royal Enfield CEO Siddharth Lal chats about the Continental GT
OD: How did the idea of the RE Continental GT come about?
SL: Britain in the 60s had motorcycling at its purest. It was enormous fun, it was young guys buying stock bikes, doing them up. They were adding bits, they were removing stuff... adding more performance into it. They were making them fun to ride and the entire goal was to take a stock bike and to do a ton. To do a 100 miles an hour on that bike. And that is the genesis of the idea that we took back. The idea that can we take our stock bike and make a sportier version of it. Something that evokes interest, which is lighter, more agile and can go faster and it also looks the part. That was the genesis of the idea and we are really excited at what we've been able to bring out.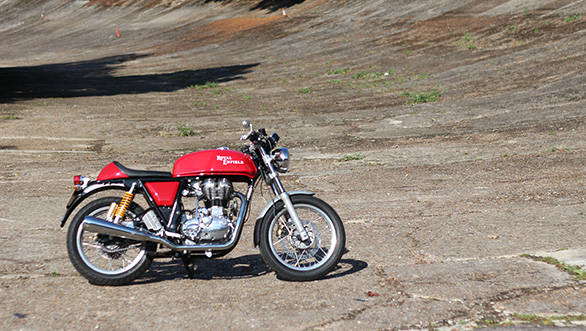 2013 Royal Enfield Continental GT
OD: Was it clear that this much engineering was required?
SL: It was extremely clear that our original platforms, the Bullets and the Classics, didn't have what it took. For the ride and handling in particular. We were very clear we needed to change that entirely. But we were also fully clear that we weren't going to develop a full new engine for this motorcycle. because that would be a much longer and a much more expensive process. The only carried over part is the tried and tested and relatively new Unit Contruction Engine. But we took that also and improved upon that. We reduced the inertia a bit, we increased the bore to the increase the cubic capacity to give it extra punch and responsiveness. We also further improved the quality of the engine.
The rest of the bike was ground-up, brand-new. We didn't use any existing parts. The first part we looked at was the chassis and we built a completely new chassis. We got Harris Engineering and Steve Harris has been doing chassis for fifty years now and he really knows his stuff. He knows Cafe Racing better than anyone else in the world. And so we got him to help us develop a brand new chassis for our engines. The basic part of that was a double downtube cradle frame, it's like the Featherbed frame from the past. And that was the starting point. Then we redid the suspension, we got new 41mm front forks, we got Paioli gas-charged rear shockers. We made a suspension that really worked and a chassis that really worked. We tested all over the world. We went to UK, we went around Europe, went to India. All sorts of road conditions, tracks to really test it out, fine-tune it and to really develop the chassis more. So it was a lot of developmental work that we put in.
And then of course we put really good rubber on. We got Pirelli Sport Demon tyres, we got really good brakes - original Brembos. We believe we've put together a package that really works now.
OD: How much has your R&D division learnt from this process, working with an outside expert in chassis
SL: It's actually been a collaboration through and through. It's not like Harris did all the work and our...
OD: What I asked was how much did you see your R&D change as they worked with an outside organisation after a long time, and very closely too...
SL: Tremendously. I mean our R&D has evolved a lot over the last few years. We didn't know anything about the frame apart from the type that we had for instance. It was a lot of developmental work and we worked closely with Harris and with other stake holders. For instance our suppliers. We had a new set of suppliers who would help us on the development of this... that was a lot of work and we have learnt tremendously and so of course, that will help us in using all that we have learnt here in developing such a responsive motorcycle and such a good chassis into our future motorcycles and into our past motorcycles as well.
OD: This is the first time you've built a narrow-focus motorcycle. Does that change the way you too approach it's marketing, it's positioning...
SL: For sure. We can't have ten general purpose motorcycle and most of our motorcycles are general purpose. Our Bullet, our Classic and Thunderbird. So what we wanted to do was to take our platform, I mean our engine platform, and push it to another level. And this is what we got out of it. This is a bit more specific. But even though we call it Cafe Racer, it is actually great fun to just ride around. It is actually more fun to ride at 60, 80, 100kmph. It's a great fun bike to have. It's also good as a city runabout. This is a bike that is going to be sold largely in the cities and is going to be used largely in the cities. It is not a bike for the tracks. It's not something you'll take really to a trackday that much. I mean it will be fun on a track but its great fun off the track.
OD: The design is strikingly similar to the old Cafe Racer. How much effort went into this?
SL: We were inspired by Cafe Racers from across brands from the 60s. But in particular we looked at our 1965 Continental GT from Royal Enfield. And we took a lot of inspiration from it. But we also evolved it further. Evolved it in many different ways for production techniques that are relevant today, for ergonomics that are important for today's customers and for the look to be even more pure and even more holistic in its entire appeal. And I believe we were able to keep that match of the historic element of the Continental GT of the past and bring it to the modern context as well.
OD: Is it only going to be red?
SL: As we stand today we have only got a red version. We said that is the most interesting colour, we want that to proliferate and so yeah if you want a Continental GT today it's gonna be red. Any colour you want as long as it is red.
OD: Are you thinking about a higher performance version that does actually do the ton?
SL: Well, the end aim of any cafe racer is to do a ton I guess. And I tried to do that yesterday and I hit, at least on the speedo, I hit 90 (mph). But that was downhill, with a bit of wind behind me and we believe that this bike is a platform or a canvas for people. So guys who want to sort of, get down and get dirty will improve it. They're going to take some weight out of this bike first. They're going to add some sort of performance parts to it. And organically we are going to see people doing stuff that will eventually take it to the ton. We are really into going to sit down and do that as well. But we haven't yet developed all the parts and let's say kits and modules which will go down that route.  But I don't see that as something that we wouldn't do. That's certainly the natural progression of something like this.
OD: When can I buy a Continental GT-R, then?
SL: You can buy the Continental GT now and whatever we do in the future will be something that you can upgrade to. And we're looking at cowls, accessories... We've got a lot of things going on but we said first things first let's come out with a bike, let's come out with a range of clothing and apparel and all of that and the next stuff will come out later. More colours maybe also.
OD: RE's done a lot of engineering work in the past three years... where does this path lead
SL: Well, this is only the start. We've finally discovered ourselves, we've discovered what we want to do and what place we want to take in motorcycling in the future. In the first instance, we want to be the leading mid-size motorcycle player in the world. We want to bring a brand of motorcycling, a type of motorcycling which is very different. It's not only about performance It's about a wholistic approach to motorcycling. It's about much more evocative style of motorcycling. That's really where the fundamentals start. Of course to accomplish that we need to make motorcycles which are consistent with our brand but which will also encompass a larger part of midsize motorcycling. So we are going to have more models, more platforms. It's all going to come in the future. But right now we just want to focus our energies back on our Continental GT because that's we believe the future. That's the bike that will, hopefully, help us in making a breakthrough in all of these markets and then it will pave the way for more and more motorcycles to come in the future.