Ross Brawn steps down as Mercedes team principal
Ross Brawn's contribution to motorsport, to Formula 1 in particular, cannot be disputed at all. And so Brawn's decision to step down from his post as Mercedes AMG F1 team principal really does mark the end of an era in Formula 1. Brawn is set to step down as team principal of the Silver Arrows in December and he will leave the squad for good at the end of the year. Taking over the reigns at Mercedes AMG F1 are Toto Wolff - the team's executive director (business) - and Paddy Lowe - executive director (technical).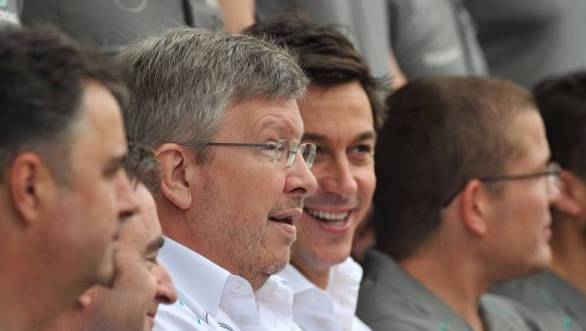 Will this be goodbye forever or just a hiatus from F1 for Ross Brawn?
Brawn's departure from Mercedes, however, is just one of many changes that the German team has seen in the recent past. First it was Michael Schumacher who left, making way for Lewis Hamilton. Then it was Norbert Haug who quit, with Niki Lauda coming aboard as the team's non-executive chairman. Toto Wolff and Paddy Lowe both joined the team's roster in 2013 as well. This means that the top management structure at Mercedes AMG F1 has seen a change since the team made its F1 return in 2010. And with the impending rule changes for the 2014 season, Brawn is the last of the old guard to step down just ahead of F1's new wave.
While Brawn has declared that he will be taking a sabbatical from Formula 1, we're still not sure how long his hiatus from the sport will be. The Briton had taken a break from Formula 1 after the 2006 season as well, only to swap his Ferrari overalls for a Honda uniform. Brawn then was the mastermind behind the eponymous Brawn GP outfit that won the 2009 Formula 1 world championship with Jenson Button driving the white and fluorescent green liveried car.
But Brawn's success in Formula 1 is usually linked inextricably to Michael Schumacher's own success in the sport. The Schumacher-Brawn combination took Benetton to two titles in 1994 and 1995. With Brawn and Schumacher at Ferrari, the Scuderia won 6 consecutive constructor's championship titles, before the Brawn GP team shocked the world of F1 in 2009.
Do we think Ross Brawn will return to Formula 1? Well, there's a good chance that he might. Do we hope Ross Brawn will return to Formula 1. Indeed we do!