Romano Fenati's motorcycle racing career could be over with MV Agusta terminating his 2019 contract
The 2018 Moto2 race at San Marino proved to be the undoing of Romano Fenati. The Marinelli Snipers rider had a clash with Stefano Manzi, after which, irritated by the situation, Fenati leaned over and grabbed Manzi's brake lever. Fenati was disqualified from the race, following which he was given a two-race ban. However, his Marinelli Snipers team also sacked him for unsportsmanlike behaviour. After which, MV Agusta and Forward Racing, with whom Fenati had signed for the 2019 season, have terminated their contract.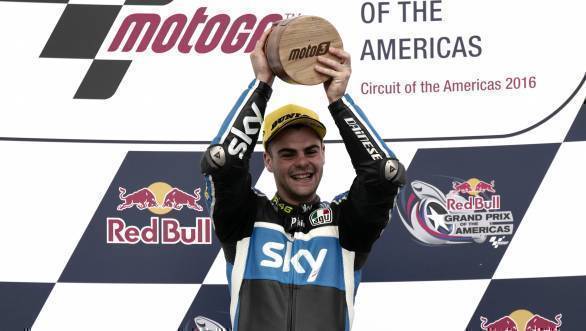 Romano Fenati in happier times. His actions at the 2018 Moto2 race at San Marino, however, have seen him sacked by both, his current and future team, and his career in GP motorcycle racing is now in jeopardy
In an official statement released by MV Agusta, President Giovanni Castiglioni said, "In all my years of watching sport, I have never seen behaviour as dangerous as this." He went on to say, "A rider who can act like this can never represent the values of our company for our brand. For this reason, we do not want him to be the rider with which MV Agusta makes its return to the World Championship."
It now appears that Fenati's future in grand prix motorcycle racing is in doubt. A press release issued jointly by MV Agusta and Forward Racing stated, "The serious misconduct by Romano Fenati towards Stefano Manzi during the Moto2 during the Gran Premio di San Marino e della Riviera di Rimini, which took place at the Circuito Marco Simoncelli di Misano Adriatico, will have repercussions for the future, beyond the black flag shown to Fenati, and the two-race ban imposed by Race Direction. MV Agusta will not be represented by Fenati in 2019, the year which will see the return of the Varese factory to the highest level of motorcycle racing, and the Moto2 World Championship. The agreement between MV Agusta Reparto Corse Forward Racing Team and Romano Fenati has been terminated."
Statement issued on Fenati's official website
Meanwhile, Giovanni Cuzari, the team owner of Forward Racing stated, "After the disgraceful episode between Romano Fenati and Stefano Manzi, it is impossible for the team to maintain its planned collaboration with the rider from Ascoli for the 2019 season. Fenati's behaviour is incompatible with the sporting values of the Forward Racing Team and that of MV Agusta. For this reason, though we bitterly regret it, we are forced to cancel our project with Fenati." He went on to state that the sport was already extremely dangerous and any act that increased the risk for riders was "intolerable".
Fenati has since issued an apology on his website, that says, "This morning, with a clear mind, I wish it had been just a bad dream. I think and I think back to those moments, I made a disgraceful gesture, I was not a man! A man would finish the race and then go into Race Direction to try and get justice for the previous episodes. I should not have reacted to provocations. The criticisms are correct and I understand the resentment towards me. I want to apologise to everyone who believed in me and all those who felt hurt by my action."