Rolls-Royce Ghost V-Specification unveiled
Rolls-Royce has unveiled the Ghost V-Specification, a more powerful version of the Ghost. The Rolls-Royce Ghost V-Specification boasts of 593PS 6.6-litre V12 engine which makes its the second most powerful Roll-Royce in the British company's stables. The Specification slots right between the base Ghost, which makes 563PS, and the more powerful Wraith fastback, which is driven by 624 ponies. The new car has four doors and rides on 21-inch wheels. With 80 per cent of the power available right from idle, Rolls-Royce claims that the Ghost V-Specification will do the 0-100kmph run in just 4.7 seconds.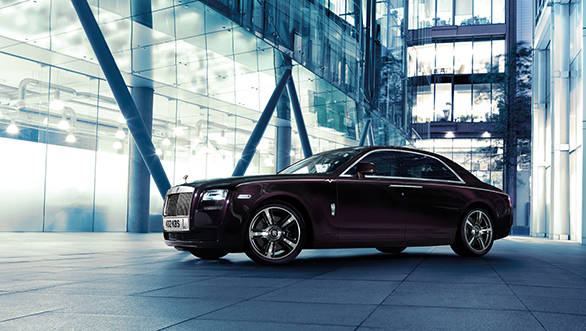 Buyers can order the new Rolls in five special colours or from the company's vast 44,000 hue palette. The bodyline will have the V-Specification motif, while inside there will be top-stitching and unique piping, special treadplates and a custom dashboard clock along with many more. Customers have the option of going in for the regular car or the long wheelbase one. Expect the car to be showcased at the upcoming Geneva Motor Show 2014.
Rolls-Royce Ghost V-Specification press release
ROLLS-ROYCE MOTOR CARS ANNOUNCES GHOST V-SPECIFICATION Tuesday 7 January 2014, Goodwood Rolls-Royce Motor Cars is delighted to announce the launch of Ghost V-Specification, a limited series of Ghost and Ghost Extended Wheelbase motor cars that will be available for customers to commission from January to June 2014. "This limited series celebrates one of Ghost's defining characteristics; the exquisite 6.6 litre Rolls-Royce V12 engine," said Torsten Müller-Ötvös, Chief Executive, Rolls-Royce Motor Cars. "Since its introduction in 2009 an extraordinary marriage of assured presence and remarkable driving dynamics has endeared Ghost to a new generation of highly discerning businessmen and women, ensuring the car's position as the statement of choice for a growing band of successful entrepreneurs around the world." At the heart of the Ghost's driving experience is its hallmark V12 engine. Acceleration is delivered with a characteristic immediacy and smoothness, propelling occupants from 0 to 60 mph in just 4.7 seconds with 80% of power available from idle. This unique powertrain is celebrated with a 30bhp / 22kw power increase on all Ghost V-Specification motor cars. Elegantly applied design touches hint at Ghost V-Specification's inherent dynamism. V-Specification motif coachlines finish the exterior paint-scheme whilst customers can either choose from five specially selected exterior colours, or from Rolls-Royce's 44,000 hue palette. Optional visible chrome exhausts and 21" part-polished wheels add further expression to the car's dynamic promise. The V-Specification motif is echoed around the car's handcrafted interior through engraving to the treadplates, embroidery to the rear armrest and hand-applied steel inlays to the front multimedia screen lid. The interior is completed with an exclusively designed clock with a black crown surrounding the face.
Related Stories