Rise Above Ride with Mahindra Centuro: Leh to Diskit
The day dawned clear enough - there was the promise of blue skies and sunshine as our convoy rolled out. Sonali, who'd been taken to hospital with a mild case of Acute Mountain Sickness (AMS) had chosen to sit in the photography car instead of ride, so we were down to five riders.
As we climbed towards South Pullu, the checkpoint where you register before you start climbing up Khardungla, another bike disappeared. Half an hour later, our ride leader Joshua Crasto rolled up to say that Adeeb Shaikh, mounted on Bike 3, was not going to be able to ride either. We retrieved the bike, loaded into our Mahindra Pik Up backup truck and installed Adeeb into the car.
Above us, the pass - visible from South Pullu - was shrouded in an ominously dark cloud and it was bitterly cold. Moments later, while we sipped the last dregs of our tea, the clear air was punctuated by flurries of snow that swirled cheerfully around us. Faced with a tough climb and now, the prospect of snow, the cheer completely escaped us.
With our game faces on, we pointed our Centuros up the mountain. This would be a tough challenge.
The problem with climbing big mountains on small motorcycles is easy to understand. For ideal combustion, the air-fuel ratio is supposed to be 14:1, though in the real world, 12 or 13:1 is usually slightly better. When you have more fuel in proportion to air, we call it a rich mixture and when we have less fuel than air in proportion, we call it a lean mixture. What happens as you ascend is that the air pressure as well as the oxygen content drops. So a carburettor running a 13:1 mixture automatically becomes richer and richer.
On the motorcycle, this means the exhaust gains a strong smell of petrol as unburnt fuel exits the exhaust. With this comes a drop in power and if you go high enough, a very real chance that you'll wet the plugs with fuel and end up stalling with misfires.
The smaller the engine, the more the drop in power affects you. Which is why most riders on the passes we met looked at our Centuros with great trepidation and concern for our mental health.
We paid them no mind as we chugged uphill. We were holding about 17-19kmph flat out in third gear. This doesn't sound like much, but steady uphill progress on broken roads, rocks and some ice while braving snow flurries and near-zero temperatures is a godsend. And since we passed a number of other motorcycles including a certain motorcycle that's regarded as the tool to conquer mountains with, I think a little gloating is allowed.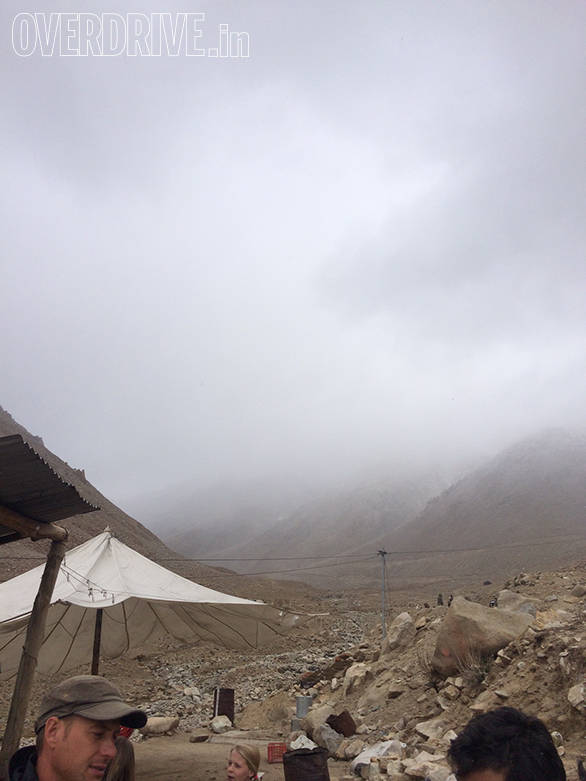 The Khardungla Top under a cover of clouds
The top of the pass was relatively empty - Khardungla Top can be a crazily-crowded nutty place despite the sign that says, "Staying at K-Top for more than 20-25 minutes can be harmful to your health."
A quick stop on the way to Diskit
Obligatory photos taken, we rapidly began our descent before anyone became too light-headed, nauseous or otherwise AMS-ill. When we reached North Pullu, the checkpost on the Nubra side of the pass, the snow flurries had gained in strength but the clouds were not so thick, so there was some sunshine as well. It was a strange sight, but we knew K-Top was behind us and that the roads to our camp for the night in Diskit - about 60km away - were in terrific nick.
It turned out to be a great ride. The Centuro is a terrific little cornering demon and over the thousand-odd kilometres we had come so far, we'd come to trust its tyres and chassis to reward our efforts. The road from North Pullu to Diskit winds along the sides of the mountains down to the camp in Diskit with unending, unflagging enthusiasm. Mostly, downhill, we were blatting at 60-70kmph around the corners, watching for rocks, dirt and sand in the middle of the road.
It was perfect. It was cold but the sun was out. There was some sand, but the tarmac was unblemished and fresh. The Mahindra Centuros were singing and I, for one, was following the convoy with a lusty song on my lips and a great big smile on my face.
At about 3pm, we rolled into camp knowing that the Ride had Risen Above. K-Top has been crossed and our job was done. We did have to cross Khardungla (and the five other passes) on our way back to be sure, but the ride's objective was now complete.
This realisation was important because while the skies were clear towards Turtuk and Thoise (places to reach if we carried on), dark, pregnant clouds closed off the view towards Khardungla. Maybe the vagaries of the Ladakhi winter would catch us after all.
Images: Suresh Narayanan
Also read: -
Rise Above Ride with Mahindra: Day Zero
Rise Above Ride with Mahindra Centuro: Day One
Rise Above Ride with Mahindra Centuro: Day Two
Rise Above Ride With Mahindra Centuro: Day Three
Rise Above Ride With Mahindra Centuro: Day Four
Rise Above Ride with Mahindra Centuro: Final day
Price (Ex-Delhi)
Starts Rs 48,935