Renault Twizy now available in a 'Cargo' avatar
Renault's tiny EV, the Twizy, is a two-seater vehicle where the passenger is seated behind the driver. Now, the French carmaker has sacrificed the passenger seat and turned its tiny electric urban stroller into a tiny, one-seat commercial vehicle.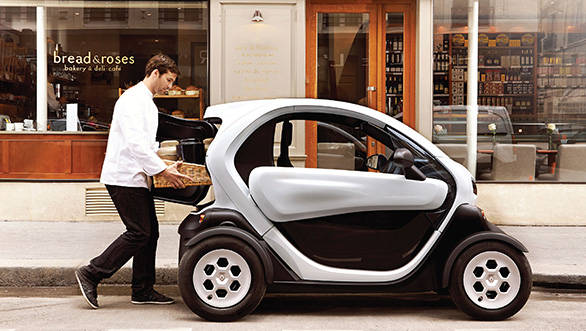 Renault Twizy Cargo
Instead of the bicycle type two-seater layout, the rear seat space has been exchanged for a 180-litre boot. This boot is secured by a lockable rear door that opens to 90°. It can, Renault says, comfortably take loads of up to 75kg.
The Twizy Cargo's boot space opens through a door which can swing 90 degrees
The ultimate urban vehicle and now an LCV, Twizy Cargo is aimed primarily at delivery or express firms, such as lift operators, postal services and emergency services. Highly visible, it can be fitted with decals and customized. Renault said in a statement, "Twizy Cargo is the perfect solution for companies offering callout or support services, like IT support, with the boot easily taking a set of tools securely and safely. Or, even a stack of large takeaway pizzas."
The Twizy Cargo is fuelled by a 17PS motor that helps the car to get to a top speed of 90kmph. It has a range of around 50kms and takes three and a half hours to charge from a normal household plug socket. Renault claims, one full charge takes less that USD 2 for a unit.
A 'Design Your Own Twizy' is also being launched. This gives buyers a choice of over 40 colours and 30 pre-designed wraps to make sure their cargo car stands out.
In France, the Twizy Cargo, is priced from USD 8,850, while the higher variant starts from USD 9,630. Both these prices are exclusive of taxes.
Here is our Renault Twizy first drive