Renault Twizy F1 Concept unveiled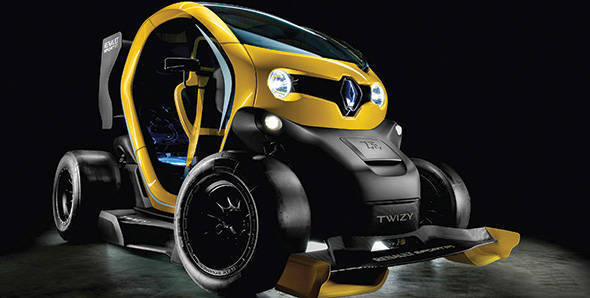 We are not sure why, but RenaultSport has turned the Twizy city runabout into a kind of electric single-seat race car. An F1-style KERS motor, battery pack and control unit supplements the standard Twizy's 17PS electric motor, providing another 79PS for acceleration to equal the RenaultSport Megane 265 as well as braking regeneration.
The KERS system takes up the space of the normal Twizy's rear seat and there are carbon-fibre wings front and rear, wide side sills, and big wheels with slick racing tyres to complete the transformation.
The Twizy F1 Concept is designed to draw attention to Renault's success in Formula 1 (it has powered the championship-winning  Red Bull team three years in a row). In the 1990s it pulled a similar stunt by fitting a Williams F1 chassis, complete with 3.5 litre Renault V10 engine, under a carbon-fibre facsimile of a Renault Espace body.