Renault-Nissan to merge into a new company?
Renault and Nissan are two major automobile brands working independently as well as are in a 19-year old alliance where Renault holds 43.4 percent stake in Nissan and Nissan owns 15 per cent in Renault. The French government has 15.01 per cent stake in Renault. However, now there are reports of a possible merger between these two automobile brands to form a new company.
"Renault, Nissan and Mitsubishi remain distinct and autonomous, with their own boards, shareholders, revenues and identities. It's up to them to make the most of what the Alliance can bring in terms of scale, cost reduction and incremental revenues. It's up to them to turn the benefits of the Alliance into a competitive advantage on the market and to develop their brand image, their car design and their customer relationship. Each company has its own strategy" stated Carlos Ghosn, Chairman and CEO, Renault-Nissan Alliance. With the increasing cross functioning between the departments, working as an independent organization might not happen. Instead, we believe, there will be centralized engineering, manufacturing and production, purchase and human resource departments.
While an official update on the same is still awaited, if the merger does take place, it will lead into a much bigger automobile corporation compared to Toyota Motor Corp and Volkswagen AG. Given the emphasis on hybrids and electrification of automobiles globally, there can be platform as well as powertrain sharing between these brands, given the fact that all the three brands already have a strong presence in these segments individually. Nissan has the ePower while Mitsubishi has the i-MiEV.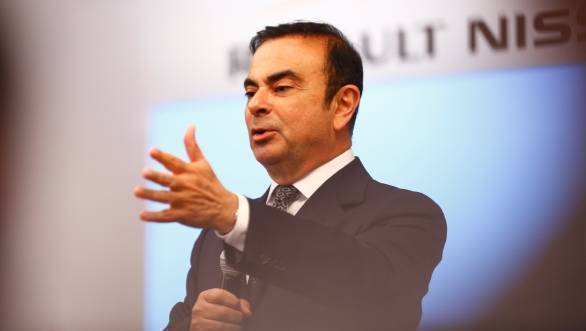 Carlos Ghosn heads the Renault Nissan alliance
In addition to the three companies working on the merger, the final approvals will come from the French and the Japanese governments. "The concern has always primarily been the French government, and somewhat Japan because both France and Japan like to keep their national champions," reported Bloomberg.
Post the merger report, Renault shares jump at a high of 8.3 per cent. Further, giving it a market value of about $36 billion. On the other hand, shares of Nissan increase by 0.5 percent giving the Japanese brand a valuation of $44 billion.