Renault-Nissan sells over 1 lakh electric cars
The Renault-Nissan Alliance has declared that it has sold its 1,00,000th zero-emission electric vehicle (EV) earlier this month.
Allison Howard with her Nissan, the Nissan-Renault Alliance's 100,000th electric car
The company's press release today said that Renault-Nissan has sold more zero-emission cars than all other major automakers combined.
It added that the electric cars from Renault and Nissan have driven approximately 841 million zero-emission kilometers - enough to circle the earth more than 20,000 times. Together, they represent 53 million liters of oil saved and 124 million kg of C02 that have not been emitted, the press release said.
 "The age of the mainstream zero-emission vehicle is here," said Renault-Nissan Alliance Chairman and CEO Carlos Ghosn. "We expect demand to keep growing as the charging infrastructure develops – and we remain 100% committed to zero-emission technology for the long term."
The 1,00,000th car was sold to American graduate student Allison Howard, who became an owner of a Nissan LEAF.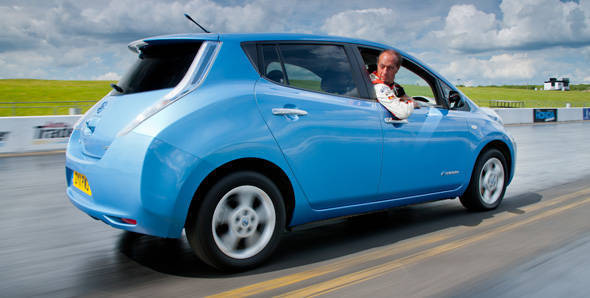 Nissan Leaf is the highest selling electric car in the world
"The fact that it's all electric and I don't have to spend money on gas as a college student, that's great," she added.
More than 71,000 people worldwide have bought Nissan LEAF, the world's best-selling electric vehicle. LEAF makes up more than half of all global sales of pure electric cars.
Nissan LEAF won the 2011 World Car of the Year, European Car of the Year 2011 and Car of the Year Japan 2011-2012 awards.