Renault-Nissan and Microsoft partner to develop connected car technologies
The Renault-Nissan alliance has announced the signing of a global, multiyear partnership with Microsoft to co-develop next-generation connected car technologies. Both companies will co-develop connected services for cars which will powered by Microsoft Azure, an enterprise cloud computing platform
In an official release, the Renault-Nissan alliance has said that this partnership will accelerate the development of advanced technologies which will allow vehicle owners to personalize their settings, enhance productivity, get access to over-the-air updates and even protect their vehicle. The alliance is aiming to develop connected car technologies and features which will support its ambitious plan of introducing over 10 vehicles with autonomous driving technologies by 2020.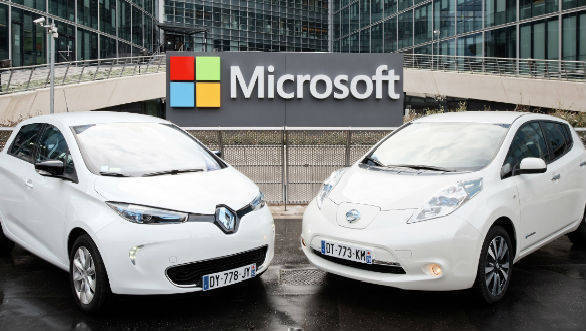 The Renault-Nissan alliance chose Microsoft Azure as it supports multiple operating systems, programming languages and tools. Since it is flexible, it will allow the Renault-Nissan alliance to develop different services on a common global platform which can be used by both brands. According to Jean-Philippe Courtois, executive vice president and president, marketing and operations, Microsoft, the partnership will bring a new standard to connected cars.
The new connected technologies will offer car owners services like transferring their settings from one car to another along with adaptive route suggestions. They will be able to download the latest software related to autonomous driving such as collision avoidance applications on the go. It will also allow them to keep a tab on their car via a mobile phone application. The next-generation technology will also allow connected cars to access advanced vehicle diagnostic services.
Although it looks interesting on paper, it remains to be seen if the Renault-Nissan alliance along with Microsoft is able to introduce these next-generation connected car technologies by 2020.