Renault Lodgy longterm review: After 14,582km and 7 months
"Don't go by its MPV body form, its a Duster underneath." This is what I tell everyone when they ask me about the Lodgy. What that means is it doesn't rock like a boat, nor is it a sluggish commuter unlike its rivals. It even takes on the kind of terrain that most other family vehicles will shy away from.
I have been driving the 110PS version for over eight months now and the dCi motor has impressed me no end. My daily commute to work includes a fair bit of highway, plenty of city roads and being in Mumbai, a lot of stop and go traffic as well. Compared to our Duster long-term tester with a similar engine, the Lodgy impresses with better urban drivability. The meaty mid-range that makes its presence felt between an engine speed of 2,000-3,000rpm is a boon for urban commutes, while a decent mid-range takes care of the bumper-to-bumper traffic. On the highway, it has been effortless as 100kmph comes up around the 2,000rpm mark in sixth gear.
In the last month, I have also had to haul six people and some luggage on a regular basis. The fuel economy did not see any major change during that period. With all seats occupied and a fair bit of cargo in the boot, the Lodgy has consistently returned over 14kmpl. Had the car been registered in my name, you would have seen my profile on every carpooling app!
Another aspect worth a mention is the life of the engine oil used by Renault. Our tester went in for its second service after running for about 11,000kms since its previous servicing and the oil was still clean enough to run for another long haul. Interestingly, the engine hasn't become any noisier or rough either. That said, post the second service, the brakes are feeling a tad grabby and inconsistent with the new brake pads. I have driven on them for almost 2,000kms now and they have refused to replicate the feel and progression of the last setup. In my opinion, bleeding the brake lines should solve the issue. Also note that the brake pads were changed against request and not due to regular wear and tear, as the Lodgy was being prepared for another story. The second service was billed at around Rs 10,000, excluding Rs 4,000 for the brake pads.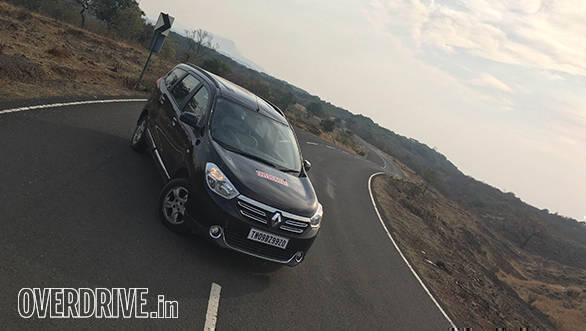 Unfortunately, it is a wrap for our Lodgy now as its long-term test tenure with us has come to end. It has been the go-to car for everything from hauling cargo and six passengers to road tripping long distances - a multi-purpose vehicle in the true sense of the term. She has become one of those few vehicles which are hard to let go.
Date acquired: Aug 2015, Total mileage: 14,582km/7 months, Last report at: 14,472km/Feb 2016, Fuel: 160 litres, Economy: 14.1kmpl
Also read:
Renault Lodgy long term review: Introduction
Renault Lodgy long term review: After 13,830km and six months