Red Bull Kart Fight to be held from July 18
Red Bull India has announced the launch of the Red Bull Kart Fight, a competition designed to find the best amateur kart racer in the country. The competition is open for drivers above 16 years old, and registrations will be held at the venue itself.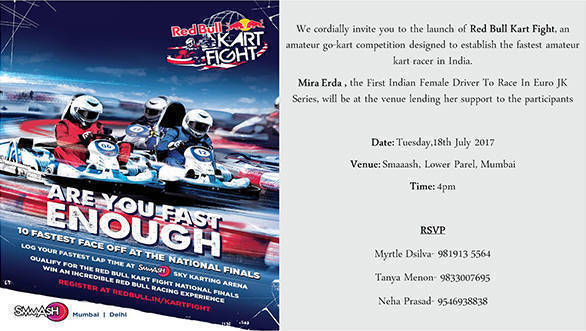 The first round of qualifiers will begin on July 18, 2017, at Smaash in Lower Parel, Mumbai. Mira Erda, who is currently racing in the 2017 JK Tyre National Racing Championship's JK Euro class, will be present at the inaugural event. She is the only female driver on the grid and, at 17, one of the youngest drivers too.
She began her racing career at a young age, participating in the National Karting Championship. She then graduated to racing in the LGB Formula 4 category. Last year she won the Formula 4 Rookie Champion of the Year Award at the annual FMSCI gala.
Qualifying rounds will also be held in Gurgaon, the only other city. These rounds will be held till September end. The qualifying rounds will be followed by the city finals and then the national finals.
The winner will get the opportunity to watch the final round of the 2017 Formula 1 World Championship at the Yas Marina Circuit in Abu Dhabi.