Red Bull Kart Fight 2018: Nationwide amateur-level go-karting competition to begin on July 1
The second edition of the Red Bull Kart Fight is set to kick off on July 1. This is an amateur level go-karting tournament which aims to provide amateur racers and racing enthusiasts with the opportunity to see how the professional side of karting functions. But the main idea is for participants have a competitive, but fun, on-track experience.
The winner will get a chance to fly to the UAE to watch the Abu Dhabi Grand Prix, the season-finale of the 2018 Formula 1 championship, at the Yas Marina Circuit. The first race will take place at Smaash in Mumbai with the next rounds happening in Delhi, Chennai, Bangalore, Hyderabad and Baroda.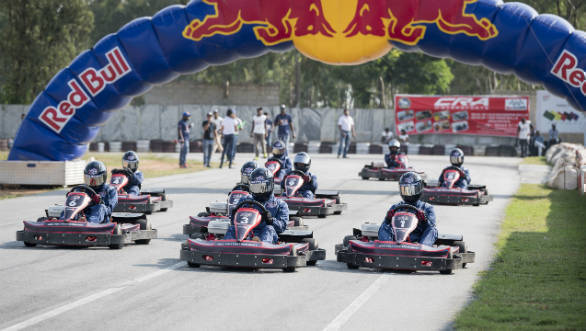 Red Bull Kart Fight 2017 National Finals Participants
Last year's winner, Monish Jain said that he was thankful for the opportunity presented to him during the first season of the event. This helped him rekindle his passion for racing and gave him an opportunity to rub shoulders with the best mechanics and pit staff in motorsports. He was also thankful for the opportunity to visit the 2017 Formula 1 season finale at the Abu Dhabi Grand Prix at the Yas Marina Circuit.
Red Bull Kart Fight 2018 kicks off with the city qualifiers in July until the end of September in Mumbai and Delhi. This will be followed by one-day qualifiers at Meco Kartopia locations in Bangalore, Hyderabad and Chennai, and Erda's Speedway in Baroda. This happens from August to September.
Red Bull Kart Fight National Finals Winners with trophy
Based on the fastest lap timings in the city qualifiers, the city finals will take place at the start of the months of August, September and October where the top-20 of the previous month at Smaash Mumbai and Gurgaon, will compete for the top-3 slots of the month in each city.
Timings for these events will be taken accurate to 1/100th of a second with a leaderboard being updated at the end of every race.
More details on the Red Bull Kart Fight can be found here: https://www.redbull.com/in-en/events/red-bull-kart-fight-2018